We Media Research
News on the Go
How Mobile Devices Are Changing the World's Information Ecosystem. A report for the National Endowment for Democracy.

---
The end of apathy
Three shifts in mobile social digital culture lead to a new economy and new visions for leadership.

---
Call it Crowdvertising
The sausage factory: Why advertisers and ad agencies are failing customers
---
Content in the creative commons. Who profits?
The artist, the Long Tail and the clash over rights
---
The news, the muse, the economy and other myths
Newspapers fall out of orbit as an innovation recession threatens their relevance and their future
---
An update on Social Citizens
Digital fluency and social change, at any age
---
A new set of tools. But who's engaging?
Using social media for social change
---
Capturing consumer engagement & creativity
Web 2.0 moves to business: How to make it work
---
Challenges for Obama
The First We President
---
My friends could be dead
The 2007 shooting rampage at Virginia Tech University revealed the new flow of news. Reporters followed the tweets.

---
Game Changers
The We Media Awards recognized Game Changers – people, projects, ideas and organizations inspiring a better world through media.

---
We Media
How audiences are shaping the future of news and information
Our seminal 2003 report coined the phrase, defined the movement and anticipated sweeping changes for the news industry – and the planet.

---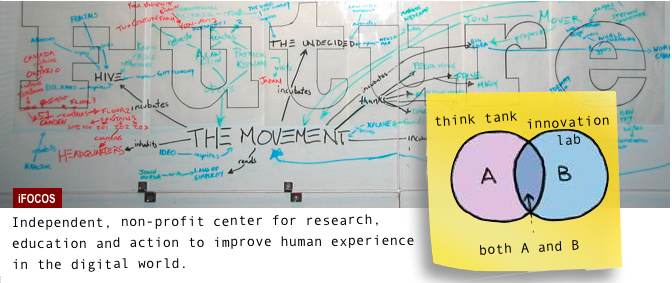 iFOCOS, the Institute for the Connected Society, conducted research, collaborations and events from 2006 to 2012.