Bring it on. Calling all technovators, gamechangers and mediamakers to We Media 2011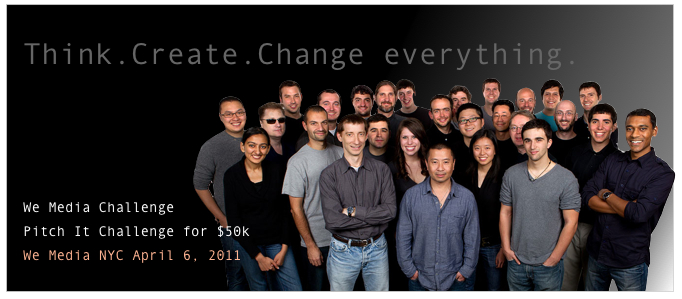 Here's how We roll in 2k11:

— We're issuing a We Media challenge to create the brilliant city of the future.
— We're awarding $50k to the best start-up ideas.
— We're holding a boot camp for would-be entrepreneurs.
— We're bringing the We Media conference back to New York.
— We're adding new ways to think, create and change everything.
Now's the time to sign on. Start by reserving your place at We Media NYC on April 6 at the Digital Sandbox Events Center in the heart of the Wall Street's financial district. Click here to register now.
PitchIt! We're holding the finals of the PitchIt! Investment Challenge at We Media NYC, as well as a PitchIt! Boot Camp. Now in its third year, PitchIt! helps would-be entrepreneurs turn their bold ideas into something real by awarding $25,000 to the two best pitches. It's sponsored by the Ethics & Excellence in Journalism Foundation and the John S. and James L. Knight Foundation. With the Knight support we're adding a mentoring program with top entrepreneurs to prep and advise finalists. Enter PitchIt starting Jan. 10.
We Media NYC: The annual We Media conference is where technovators, changemakers and socialpreneurs apply media, tech and "the power of us" to bring solutions to 21st Century needs. With a fresh on-the-moment theme each year, the We Media conference features the people and ideas shaping media, technology and society. Now in its seventh year, it returns to New York, where Al Gore first helped us set an agenda for participatory media and social action enabled by technology. The conference has since traveled to London, Buenos Aires and Miami, featuring breakthrough ideas and inspiring gamechangers. Participation is limited to 200 people to keep it intimate, personal, meaningful and valuable. We'll announce program details soon. Sign up now to get the lowest price. Click here to register now. Or contact us to talk about sponsorships.
There's more coming. You should be, too. We Media 2011: Think, create, change everything. See you there.

Dale is co-founder emeritus of We Media.