Did social media save Haiti, or did Haiti save social media?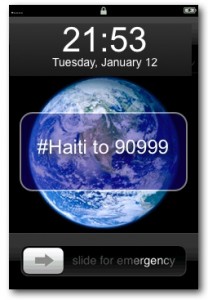 Maybe it was Ashton Kutcher's 13 silly tweets on one day resulting in 54 million impressions.
Or the 56 million stories about Tiger Woods still being shared on the Internet.
Or the Susan Boyle video viewed by 165 million people.
Or the Twitter battle between Conan and Leno followers.
Maybe it was the Suicide Machine video demonstrating how to kill your social networking presence,
Or singer John Mayer asking his 2.8 million followers to undergo a digital cleansing.
Or digital pioneer Jaron Lanier's stunning manifesto against hive-thinking and digital Maoism.
Maybe I was just wary of thin networks, shallow relationships that have become "friends," the shameless self-promotion of celebrities, opportunistic brands suddenly going social, and a collective culture that celebrates the trivial above the meaningful through the madness of crowds.
I was having second thoughts about collective awareness and the promise of unifying knowledge through We Media. Then this happened: #Haiti at 90999.
More than $35 million has been raised, including $10 million directly from texting, and another $10 million raised through tweets.
There's Yele Haiti, Wyclif Jean's humanitarian site that has long been devoted to Haiti's plight.
There's the Twitter feeds of the Red Cross, Doctors Without Borders, and dozens of other organizations.
There's the page on the iTunes Store that raises money for relief supplies, mobilizing relief workers, or providing financial resources.
There's Google's Crisis Response page that centralizes disaster relief, donation campaigns, news and information as well as providing a central place to track missing people that simplifies searches and makes reunions more likely.
There are the 13,000 eyewitnesses videos on You Tube, amateur and professional, that capture the moment and the aftermath.
News organizations such as CNN have even turned to social media, incorporating user-generated stories to convey the experience of the Haitian people. Social media's ability to bring these stories directly to us has made an impact in a way that traditional news reporting can't.
Suddenly, We Media matters again.

Dale is co-founder emeritus of We Media.