Lava lamps won't save newspapers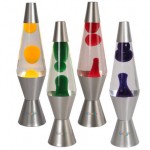 Spend a little time at the Googleplex and you begin to believe that business is all fun-and-games and that The Life Google serves a better world.
Paul Allen's personal spaceship hangs from the ceiling of Building 43. An organic garden supplies produce for healthy cafes across the Mountain View, Ca. campus. There are foosball tables, ping-pong tables and volleyball courts for creative play. There are massage chairs for relaxing; gyms for yoga, dancing and workouts. There are bikes and scooters for people-powered travel between buildings, and a winding path through a whimsical sculpture garden for dog-walking and contemplative jogs. The cubes, yurts and huddle rooms are filled with whiteboards, laptops, lava lamps and large, inflatable balls. Even the men's rooms are Googlized; messages about groups working on complex problems hang above urinals as if to divert attention from the mundane business below to more Google-worthy issues at eye-level … and the organ between the ears.
I like the environment, but The Atlantic's James Fallows so loves the the place that he believes Googlers can solve the problem that's on so many minds these days. He writes that he's spent a lot of time at the Googleplex over the past year talking with Google strategists and engineers about saving newspapers.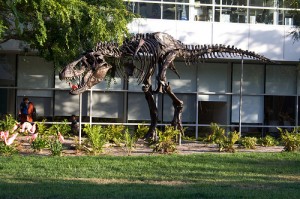 No doubt he passed the garden where
a bronze casting of a T Rex fossil,
a gift from founders Larry Page and Sergey Brin, forages among the plants. Fallows has so thoroughly bought
into the cult of Google he reports the company is devising ways to save newspapers from becoming the next dinosaur in the garden.
"Most Internet and tech businesses have been either uninterested in or actively condescending toward the struggles of what they view as the pathetic-loser dinosaurs of the traditional media," he writes.
Which is entirely wrong.
"Everyone knows that Google is killing the news business. Few people know how hard Google is trying to bring it back to life, or why the company now considers journalism's survival crucial to its own prospects."
Which is incredibly naive.
Fallows loses his balance assuming that Google can actually save newspapers. Or wants to. He bought what Google CEO Eric Schmidt sold to newspaper editors at their convention last month: the survival of high-quality journalism is "essential to the functioning of modern democracy." Like newspaper editors didn't already believe that?
Fallows acknowledges Schmidt is a family friend and an Atlantic reader. You don't need a weatherman to know which way that wind blows. He spends many pages arguing that Google is trying to save newspapers rather than killing them.
Okay, Google is working with some newspapers planning to put their content behind paywalls. Those Google engineers are such good friends of journalism and democracy. And their "permanent beta" culture is so innovative ….

But there are a few other reasons, too.
Google knows newspapers are good for Google because they generate information people want to search for. Google gets all the revenue from all those little ads, formerly known as classifieds, that run next to search returns. You know, those ads that paid for the Googleplex just as publishers were shedding reporters. The paywall is another way to get a piece, one story at a time.
Google would like nothing better than for newspapers to stop printing and start selling online ads for as much money as print ads. That has never happened, nor is it likely to happen. Google wants the money anyway, no matter how much or how little. It covets display ads that count for most of newspapers' remaining revenue. Google would gets its piece through its its ad-serving platform, DoubleClick, which it acquired three years ago and has now integrated in Google systems.
Fallows is right to suggest that craigslist, more than Google, undermined the classifieds money-machine. Craig Newmark's crime was to make classifieds free and interactive, a wry play that made obsolete a highly-profitable marketplace in the back pages of the daily paper. Google is responsible for ruining the rest of it. Its algorithms blew up the newspaper bundle, exploding content into atoms. Context was vaporized. Newspapers have been unable to reassemble the pieces in a meaningful way or find a price low enough to charge for them. The Humpty Dumpty problem.
Now Google says it is willing to help. What it is unwilling to do is admit that it is culpable. Rather, its execs maintain that Google actually serves newspapers by driving traffic to their web sites from searches. Google has maintained that newspapers ought to charge a lot for the advertising on those pages, but a viable market has yet to materialize for most. So it goes like this:
First, Google unbundles content from the newspaper package and sells it off a piece at a time.
Next, it hastens the dismantling of physical operations — paper, ink, delivery trucks, production and the jobs that support them — as unnecessary, recurring costs of distribution. You get to find your news on Google without getting your hands dirty.
Then, it grabs display ads by serving them through DoubleClick and forcing online newspapers to create more expensive ads since newspapers would have to share ad revenue with Google.
Take that, Apple. Just like the iPad or iTunes, Google could try to impose controls on content-distribution platforms that yield revenue. Let's take the big slice from those desperate publishers. Who's your boy: Eric or Steve?
The survival of high-quality journalism? The functioning of modern democracy?
Let's not leave those questions to the likes of Eric Schmidt, Steve Jobs or James Fallows. They confuse important questions with current cliches.
We don't need lava lamps or inflatable balls to cool-out a business that no longer works.
Journalism and democracy will survive and flourish in new forms and formats that are emerging. That's an idea worth the investment.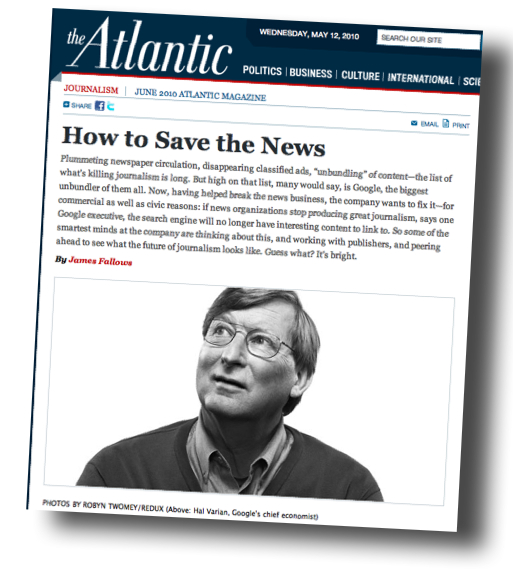 Dale is co-founder emeritus of We Media.