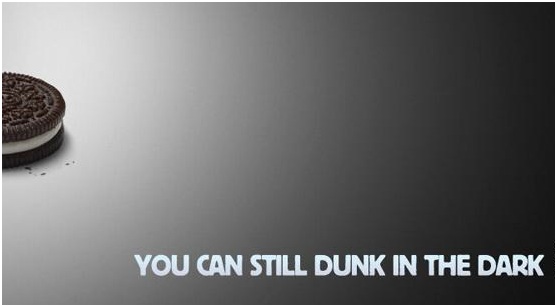 Lights out: Oreo's dunk in the dark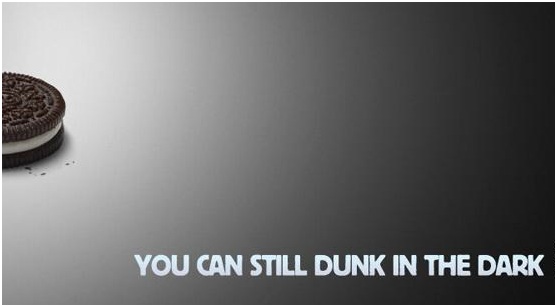 The lights went out on the traditional TV commercial and on to social media during Sunday's Super Bowl. The smart cookies at Oreo figured it out in real time, the news of the moment.
"You can still dunk in the dark," Oreo tweeted on a spur-of-the-moment ad cast in so-cool shadows and darkness. As the world groped in confusion during Zero Dark 34, the tweet-ad went viral — retweeted 15,000 times in 14 hours.
Oreo was one of several companies that reinvented the 30-second spot for the Super Bowl — a $3.8 million misfire for most. advertisers. Rather, it assembled a social-media command center at 360i, its digital ad agency in New York. It required that ad agency and client executives be at the same place at the same time. The group included the agency's creative directors and its tech-support team. When the lights went out during the game, it took them just five minutes to conceive and produce the ad.
Oreo didn't need to reserve TV airtime or print space in advance. It was able to move at the speed of the news. Its use of Twitter enabled the brand to speed a message to the marketplace by eliminating the middlemen, the mass media, and  the cost of mass media advertising. We watched in real times as Twitter and  social media crushed another traditional media model. "Lightening in a bottle," said one ad exec.
Oreo has been cultivating the moment for months, creating a Twitter following with a campaign of culturally relevant ads. And it would have missed its opportune moment had it not paid millions for a Super Bowl TV spot.
Social media's disruption of advertising is just beginning. We're in the early, somewhat chaotic, transitional phase of this revolution — 15,000 retweets pale in comparison to the 110 million people who watched the Super Bowl on TV.

Dale is co-founder emeritus of We Media.