Robots, copyright and the whine at WAN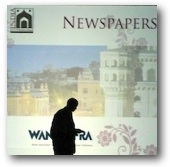 We couldn't get to Hyderabad for this year's group hug of the world's newspaper publishers, but it sounds like the old boys are getting feisty in their dotage. Forced once to postpone because of bad economics and waning interest, the reconvened World Newspaper Congress, organized by the merged World Association of Newspapers and IFRA, launched a surge against geeks and Google. Seems like publishers don't much like this world. Read about it on Paid Content, here and here.
Can't we all just get along? Ah, no. Not as long there is control, copyright and lots of money at stake. Paid Content's Rafat Ali reacts and shares perspectives from the warlords. Fredic Filloux, the Paris-based editor who writes the Monday Note blog, attempts a diplomatic solution. Does anyone believe this will end well?

Dale is co-founder emeritus of We Media.