Roger Fidler, Jeff Jarvis join Tabula Rasa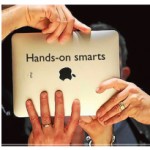 The irony of conducting an event called Tabula Rasa is that we're not exactly bringing a clean slate to the discussion. Two digital media visionaries — Roger Fidler and Jeff Jarvis — are joining the conversation at Thursday's activities at the Digital Sandbox Event Center in New York. It would be hard to create either an app or an operating system with better user-experience. Experience-experience, too.
Roger is regarded by many as the father of tablet computing. A seminal figure in electronic publishing and newspaper design, he envisioned digital newspapers and mobile reading devices nearly three decades ago. That predated personal computers and the digital ecosystem by years. Read his prescient essay from 1981. As Director of New Media for Knight-Ridder Inc. in the 1990s, he pursued his vision at the company's Information Design Laboratory in Boulder, Colorado. In 1994, his team at the lab produced a video titled "The Tablet Newspaper: A Vision for the Future" that demonstrated how people might one day read newspapers and magazines on tablets. The video has gone viral on the Web since the announcement of the Apple iPad.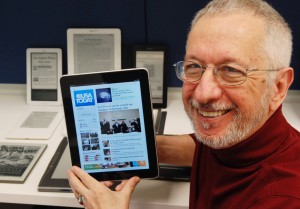 Twice a finalist for the prestigious World Technology Award in Media and Journalism, Roger is a World Technology Network Fellow. Currently he serves as program director for digital publishing at the Donald W. Reynolds Journalism Institute (RJI), where he coordinates digital publishing research projects and the Digital Publishing Alliance, a member-supported initiative that includes The New York Times, Los Angeles Times and Washington Post. Matt Mansfield, the former SND prez who is facilitating the Developer's throwdown at Tabula Rasa, wrote a gem of a profile for the Society of News Design, of which Roger was a founding member.
At Tabula Rasa, Roger will also demo the app for Newsy, the multi-source online video news service.
All this and Jeff Jarvis, too. What more is there to say about the human app called Jarvis? Author, journalist, pundit, blogger, professor, mentor, advisor, entrepreneur and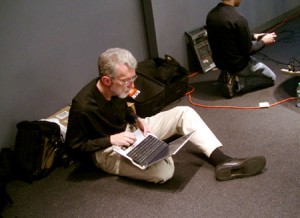 provocateur extraordinaire, Jeff orbits around one of the most popular and prolific blogs on the Internet, BuzzMachine. If you haven't read Jeff, then you you've never gotten the signal. You may want to read Jeff's post and video why he reboxed and returned his iPad.
Roger and Jeff join a group of expert analysts who'll assess a creative moment and the products that have been developed for them. They are joined by an equally insightful and provocative group: user-engagement strategist Chrys Wu of Matchstrike; celebrated designer and publishing expert Roger Black; and mobile expert Rick Robinson, a former AOL exec and founder of SonicGleek productions.
Join them at the Feedbag Forum, our lunchtime forum among participants, at Tabula Rasa.
Only a few seats remain, so register today to join the conversation, throwdown the most innovative ideas on the Internet, and participate in the creative future.

Dale is co-founder emeritus of We Media.