Screen-sensitive glove keeps info at hand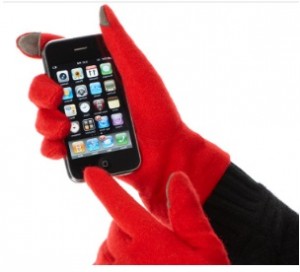 You want to call a friend, check email or search for a restaurant. Pull out your touch-screen gadget and let your fingers do the work. Problem: it's freezing and the gloves are on. Your forefinger and thumb slide across the surface of the touchscreen like a frozen puck.
Go fingerless? A fashion statement for the grunge crowd, perhaps, but one that leaves fingers freezing and your data untouchable. Put on an Echo Touch Glove and finger-skate to your data.
Echo has put small pads of "eLink" fabric on the tip of the index finger and thumb, enabling touch-sensitive commands and gestures on most devices. Swipe. Slide. Tap. Pinch-zoom.
Capacitive screens are manipulated by the effect of your touch on an elecric field generated by the device. When your finger touches the screen, it changes the properties of the electric field. Gloves are an effective insulator preventing your fingers from interacting with the electric field. Echo's conductive eLink fabric works like skin activating the field, though you may have to press a tad harder.
Multi-functional, they come come quilted, in wool-blend and cashmere. About $30.
— Scouted by Mary Peskin for the Museum of Next

Dale is co-founder emeritus of We Media.