The lost summer of newspapers
Reporter: If you could've found out what Rosebud meant, I bet that would've explained everything.
Other reporter: No, I don't think so; no. Mr. Kane was a man who got everything he wanted and then lost it. Maybe Rosebud was something he couldn't get, or something he lost.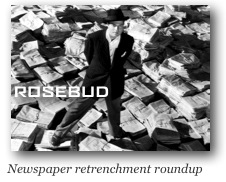 With the curse of memory, a current roundup of retrenchment in the newspaper industry this summer:
— Newspapers cut Washington bureaus. WashPo's Howie Kurtz writes the obituary for an industry giving up on covering the influence of national policy on regional issues. Editors explain why.
— San Francisco Chronicle offers buyouts to another 125 journalists.
— Newark Star-Ledger says it will sell the paper unless the staff is cut by 20 percent.
— The Buffalo News offers buyouts to 107 employees.
— Gannett announces it will eliminate 1,000 newspaper jobs, or about three percent of its workforce.
— Sarasota Herald-Tribune (a New York Times regional newspaper) cuts 33 jobs.
— Chicago Tribune to cut 80 newsroom jobs
— Orlando Sentinel quietly eliminates 20 percent of newsroom jobs.
— Tampa Tribune will lay off 21 in newsroom.
— Milwaukee Journal says it will cut 10% of its 1,300 employees.
— Palm Beach Post to cut 300 jobs, including 130 in the newsroom.
— Boston Herald plans to layoff 130 to 160 employees.
— McClatchy to shed 10% of its workforce across the company.
— Charlotte Observer reduces workforce by 123 positions.
— Sacramento Bee to cut 86 jobs.
— Miami Herald cuts 250 jobs.
— Kansas City Star cuts 120 jobs.
— Media General to eliminate 750 jobs by October.
— St. Pete Times avoids layoffs as 200 accept early retirement packages.
— Cox announces it plans to sell all but three of its newspaper holdings, including the Austin American-Statesman.
We've missed some, but you get the idea. Some newspaper sites have pulled web pages with stories announcing cutbacks.

Dale is co-founder emeritus of We Media.