WeMedia and FOWA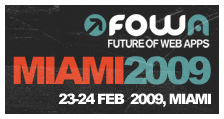 We are not the only group smart enough to host a discussion with really smart people about the future of media and technology in Miami later this month.  Our friends at FOWA – the Future of Web Apps – have put together a big conference at the Adrienne Arsht centre in Miami on 23rd & 24th February.  And, they have offered a discount for WeMedia community members and conference attendees who register to attend (just register and tell them WeMedia sent you – using the code F0WA-wmd).
What is FOWA all about?
FOWA is two full days of discussions about the most successful web technologies and business trends of the future along with a chance to be up close and personal with industry pioneers at the workshops, and not forgetting the FOWA parties.  Confirmed speakers so far include:
– Daniel Burka (Digg/Pownce)
– Jason Fried (37signals)
– Joel Spolsky (Joel on Software)
– Gary Vaynerchuk (WinelibraryTV)
– Kristina Halvorson (Brain Traffic)
– Chris Messina (Citizen Agency)
– David Recordon (SixApart)
– Francisco Tolmasky (280 North)
If you plan to attend WeMedia, I hope you will consider spending a few extra days in Miami and drop in FOWA.  It promises to be quite an interesting event.  More information at http://events.carsonified.com/fowa/2009/miami/.
(And remember, tell them WeMedia sent you – using the code F0WA-wmd).
Brian is Managing Director of little m media which provides strategic guidance and support to organizations around the use of the internet and technology to facilitate communications, engagement, education, and mobilization.