WeThink: Lend Me Your Finger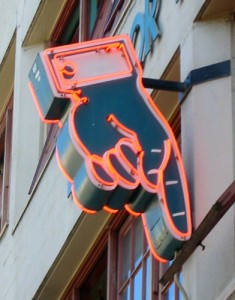 Earlier this week WeMedia gathered a group of innovators and disruptors for a day-long series of conversations and demos to explore the business and beauty of tablet computing.  The Tabula Rasa (blank slate) event provided a fresh look at what to make of tablets – and what to make with them.  But the event was just the beginning.  WeMedia also invited some uber-smart people to write down their thoughts about what tablets mean for the future of media, entertainment, education… and everything else.  Here is one of the head-spin causing, bold and brilliant essays from our contributors.
Thomas Mucha, the Managing Editor of Global Post, is excited about what the iPad means for the future of journalism.  But not for the the same reasons you hear others offer.  He writes in his essay, Lend Me Your Finger:
… excellence in the digital age isn't only about producing great journalism, though it is—most assuredly—about that. It must also be about offering context, control and convenience to increasingly sophisticated and demanding consumers of news and information.

The iPad is designed to do just that.

It invites you to interact with whatever content is shimmering, seductively, from its luminous screen. It begs you, literally, to put your finger on what's important to you whenever, however and wherever you want it—at home, at work, on an airplane, a train, bus or anywhere else.

For news content producers this is a moment to celebrate.
Read or download the entire essay here, then let us know what you think.
WeThink – Lend Me Your Finger – Final
——
This post/essay is a part of our ongoing WeThink project.  WeThink is a conversation about innovation and the future — an effort to explore new ideas and promote solutions to the challenges that our society is facing. If you have an idea you would like to share or an issue/question/topic/innovation you would like to see addressed, let us know.

Photo credit: Mykl Roventine

Brian is Managing Director of little m media which provides strategic guidance and support to organizations around the use of the internet and technology to facilitate communications, engagement, education, and mobilization.