WeThink: Media Reforestation Part II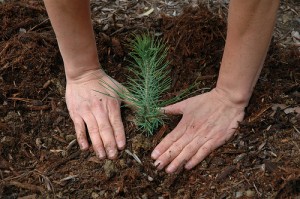 Earlier this week WeMedia gathered a group of innovators and disruptors for a day-long series of conversations and demos to explore the business and beauty of tablet computing.  The Tabula Rasa (blank slate) event provided a fresh look at what to make of tablets – and what to make with them.  But the event was just the beginning.  WeMedia also invited some uber-smart people to write down their thoughts about what tablets mean for the future of media, entertainment, education… and everything else.  Here is one of the head-spin causing, bold and brilliant essays from our contributors.
Steve Rubel, SVP and Director of Insights at Edelman Digital, wrote recently about three trends that tablet computers will accelerate.  The first trend on his list was media reforestation, which he explained as follows:
Media is in a rapid state of evolution as consumption moves from atoms (e.g. print) to bits. I believe all tangible forms of media – everything you can see, touch, taste and smell – will be in sharp decline or extinct by 2012 in the US, and eventually globally. Mobile devices, especially slates, are going to accelerate this trend.
But as he notes in his follow-up piece, written for WeMedia, that was just the first chapter. Now he adds:
As our devices begin to collect and share information in aggregate about our habits and environment (privacy concerns notwithstanding), local and topical news sites will seamlessly form on the fly, curating torrents of tweets, news stories, images and videos about breaking news.

Tablets and smartphones are powerful, connected devices that we tote everywhere. But as more of them multitask and publish what we allow them to, automatically, it will further revolutionize media and perhaps one day make editing a relic of the past.
Read or download the essay here, then let us know what you think.
WeThink – Media Reforestation – Final
——-
This post/essay is a part of our ongoing WeThink project.  WeThink is a conversation about innovation and the future — an effort to explore new ideas and promote solutions to the challenges that our society is facing. If you have an idea you would like to share or an issue/question/topic/innovation you would like to see addressed, let us know.

Photo credit: USFS Region 5

Brian is Managing Director of little m media which provides strategic guidance and support to organizations around the use of the internet and technology to facilitate communications, engagement, education, and mobilization.