WeThink: Touchable TV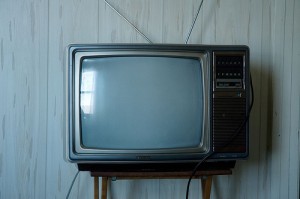 Earlier this week WeMedia gathered a group of innovators and disruptors for a day-long series of conversations and demos to explore the business and beauty of tablet computing.  The Tabula Rasa (blank slate) event provided a fresh look at what to make of tablets – and what to make with them.  But the event was just the beginning.  WeMedia also invited some uber-smart people to write down their thoughts about what tablets mean for the future of media, entertainment, education… and everything else.  Here is one of the head-spin causing, bold and brilliant essays from our contributors.
Tim Shey, who runs audience development for Next New Networks, spends his days (and nights) thinking about — and working to develop — the next generation of television programming.  So, it would seem odd that his vision for touchable television is inspired by some of the first programming ever created.  But its not odd at all.  Its really smart.  You see, when he looks back in time, Tim Shey sees a future for television that you can literally help to mold with your own two hands.  He writes:
How will TV look different when people can take it into their own hands? Branching storylines, or multiple perspectives on a story, could be chosen by a viewer. Extras in the background, formerly set dressing, could be new characters you could tap with your finger and suddenly shift to follow their story: the world-building we typically see in games or novels, especially in genre storytelling, could become part of TV, even allowing fan-filmed stories to become linked into a show (imagine clicking on a few Stormtroopers in a scene from "Star Wars," for example, and launching into Kevin Rubio's great 1997 mockumentary, "Troops.") While watching sports, concerts, and other live entertainment, viewers might be able to choose in real time from multiple camera angles, and touch players, teams, or areas of the field for enhanced information. In a CGI-animated scene, you could touch and drag to pan and zoom a virtual camera. And, harking back to the days of Winky-Dink, viewers can finally draw on the screen without driving their parents crazy; the backgrounds and sets of our future's Dora or Sesame Street could include graffiti from their most loyal viewers, drawn on from locations all over the world, as well as a layer of annotations, response videos, and fan fiction left by everyone who's watched before, making every episode a wiki-like collaborative story.
Read or download the entire essay here, then let us know what you think.
WeThink – Touchable TV – Final
——-
This post/essay is a part of our ongoing WeThink project.  WeThink is a conversation about innovation and the future — an effort to explore new ideas and promote solutions to the challenges that our society is facing. If you have an idea you would like to share or an issue/question/topic/innovation you would like to see addressed, let us know.

Photo credit: dailyinvention

Brian is Managing Director of little m media which provides strategic guidance and support to organizations around the use of the internet and technology to facilitate communications, engagement, education, and mobilization.