We're a global agency, studio and idea incubator for the digital age.
We support, advise and collaborate with media companies, marketers, NGOs, journalists, thought leaders, startups, investors, social entrepreneurs, media creators and educational institutions worldwide. We tell stories, build brands, find audiences, explore frontiers and unleash the intelligence, influence and value of networked communities everywhere.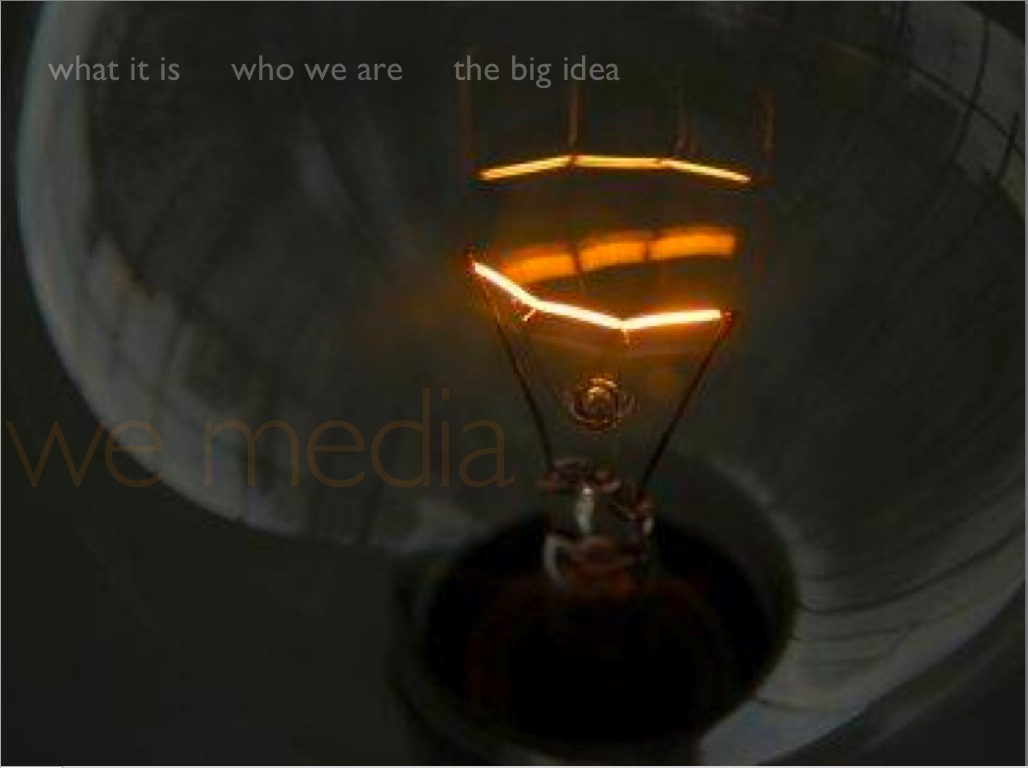 We Media celebrates the power of us – and the power of story-telling by anyone, anywhere, to inform, inspire, engage, entertain and uplift humanity. We use technology. We love stories.
We're catalysts, analysts, explorers and architects of digital media. We create, curate and share ideas, scan widely, connect globally and help businesses and non-profit clients worldwide imagine new ways of doing things.
We publish a newsletter that offers analysis, sightings, things we like and ideas on what's happening in the connected, info-saturated, media-centric, always-on digital culture. We also conduct events and research, help companies tell their stories, engage their communities and develop new products – and we organize a global network of digital media visionaries.
Founding partners Andrew Nachison and Dale Peskin are widely cited journalists, designers, story-tellers and advisors.
The Big Idea
We Media is also a movement. It's about how we know what we know, whether through journalism and the shifting systems used to produce it, through social networks and our personal connections to people and organizations we trust, or through old and new forms of story-telling that travel side-by-side and surround us in the digital mediascape. It's about politics, democracy and the power of us; and censorship and the power of control. It's about information overload and a world of choice – and choices about how we live, learn and care for each other.
We Media is at once a sea of noise and confusion, a day-to-day struggle for survival and achievement, and an infinite quest to harness the power of media, communication and human ingenuity for the common good.
We hope you'll spend some time with us online and in person.