Current finds TV's future at the bar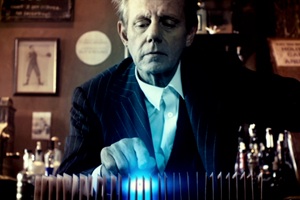 Current TV's Bar Karma is a stunningly original development in storytelling enabled by the collaboration of a creative generation of storymakers and visionary mediamakers.
A community of viewers can use Internet applications at Current's Creation Studios to create and develop stories, characters and plots for the new TV series. Brilliant producers such as video game legend Will Wright (the Sims, Spore), and TV hitmaker Albie Hecht (Spike TV, Nickelodeon) take it from there. Don't confuse it with reality TV.
The TV series is set at a mysterious watering hole traveling through time and space. At happy hour, a barkeep guides one lost soul through a crossroads in his or her life, using glimpses of the past, present and future — A Christmas Carol meets The Twilight Zone for the cosmic bar crowd. But in this universe, anyone can play at being a Charles Dickens or Rod Serling by accessing the Creaton Studios from the web, a smarphone or their Facebook account. Creaters will be inspired, but also tested, by their ability to create compelling stories and characters.
Like A Christmas Carol, Bar Karma explores how everyday choices can have unexpected or unintended consequences. The possibilities are unlimited when you bring everyone into process. The idea that true talent comes from everywhere is a breathtaking idea for an otherwise passive medium set with controls to keep the audience at a distance. Real interactivity means content exchanges with audiences that go far beyond 3D TV or an Internet keyboard connected to a screen.
Bar Karma premiers on February 11. A guy walks into a bar …. the rest is up to your imagination.
— Curated by Dale Peskin

Dale is co-founder emeritus of We Media.