Journalism's fifth stage of grief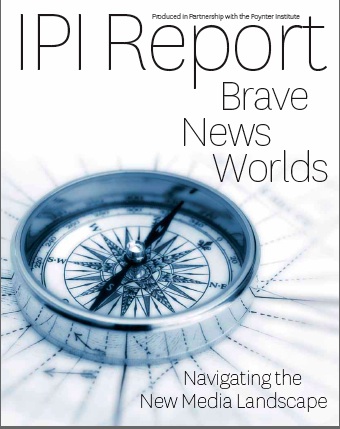 Denial and isolation. Anger. Bargaining. Depression. Acceptance. The five stages of grief are a healing process for those who suffer serious loss. Now come signs that journalists are easing their pain through the fifth stage, acceptance.
One signal comes from Brave News Worlds, a new report from the International Press Institute and the Poynter Institute. A collection of essays from digital innovators and advocates, Brave News Worlds provides "effective solutions and lessons learned" in the transition to digital media. What resonates, though, is its point of view. Loss lingers and continues, but the publishers offer an agenda of hope. "Is the future really so bleak?" asks IPI's Lauren Dolezal.
The question captures the irony of the report's title, a tortured reference to Aldous Huxley's disturbing, distopian vision of the future in his 1931 novel Brave New World. The metaphor transported me to a 2007 seminar at Poynter where a faculty member warned that technology and empowered citizens would undermine the capabilities of newspapers to organize communities, and thus hurtle society toward distopia. The scenario spooked participants so thoroughly that they were asked to exorcise their demons by revealing what worried them most. Their answers produced a flip chart of fears, mostly about job insecurity and the inevitable demise of newspapers. They were right to worry.
Bill Mitchell, the report's editor, makes no such mistake. Mr. Mitchell is quick to get past the woe-is-us feeling so prevalent among journalists these days. He acknowledges an epiphany, then does his best to deliver one. He reassures journalists instead of scaring them — smart for someone who heads Poynter's entrepreneurial and international programs. Practitioners such as Alan Rusbridger, the editor of The Guardian, validate journalistic enhancements in the digital age. Pop-prophets of media change — the likes of Jeff Jarvis, Clay Shirkey and Dan Gillmor — spin now-familiar commentary about the expansion of journalism to most everyone. What emerges is validation for journalists to move on.
But moving on presents another irony. In what could have been a powerful demonstration of the capabilities of digital media — interactivity, linking, social networking, multi-media storytelling and design — the report is instead delivered on the platform for journalism that is being replaced: print, 152-pages of it. You can download a bulky PDF from the IPI and Poynter sites, but the print-bomb undermines the publishers' credibility for espousing the opportunities of digital delivery. It does, however, validate their contention that journalism's transition won't be smooth.
I admire IPI and Poynter for the reckoning. The moment is not about the collapse of journalism, but of its reframing. Call it entrepreneurship, innovation or creativity, you must first accept the possibility of a media renaissance. The hard part is letting go.
And that after this is accomplished, and the brave new world begins
When all men are paid for existing and no man must pay for his sins,
As surely as Water will wet us, as surely as Fire will burn,
The Gods of the Copybook Headings with terror and slaughter return!
— Rudyard Kipling, the Gods of the Copybook Headings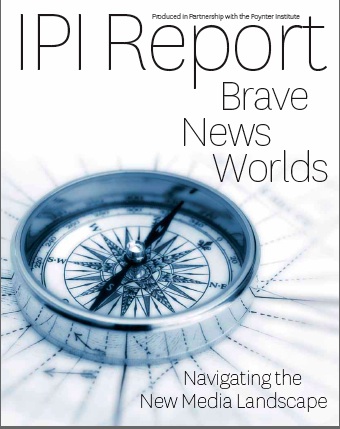 Dale is co-founder emeritus of We Media.