Launching this month: StableRenters
Ben Sacks was a 2011 winner of the We Media PitchIt Challenge for a social startup idea to help renters learn more about landlords. In addition to $25,000 in seed capital to help them get going, PitchIt winners gain access to a network of We Media Mentors – and they agree to "pay it forward" by sharing their experiences to help others who follow in their footsteps. The 2012 PitchIt Challenge will open for entries in January – sign up for the We Media email list or catch us on Facebook for early announcements.
---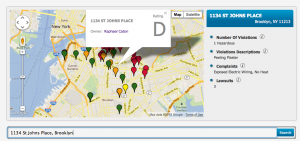 On January 20, StableRenters will go live with landlord identity and a score based on complaints per unit for nearly every rental, co-op and condo property in the five boroughs of New York City!
As you can see, much has changed at StableRenters. I found a developer, made too much work for my part-time self, quit my day-job, and am gearing up to launch a more advanced beta version than I ever imagined.
How in the world did this happen in just two months? After looking tirelessly for the right developer and finding mostly over-qualified develop/design shops that wanted to take all my money and produce a great final product from start to finish, I decided to look farther afield. I wanted a small demo app that I could show the world and gauge response and value before going further, and no one qualified that I knew in NYC would do that for me.
I finally decided to check out Odesk, an online market for freelancers. There I found a qualified and enthusiastic Ruby on Rails developer that was willing to do the project for a few thousand dollars, a common rate among developers in Lahore, Pakistan. Along with a low intensity site administrator I found on Sortfolio to manage access permissions, I was set to begin.
I began working with these two when I still had a job, and quickly it created more work than I was able to handle in a few hours each night. Also, my wife was ready to kill me. I wasn't sure where this would lead.
Then, December rolled around and I still had about $15,000 left from the Pitchit challenge that would be taxed if I didn't spend it all on legitimate business expenses by the end of the month. I mapped this out, thought of extended consulting fees, a year's worth of office space, an iPad, a new computer, and a desk. But as fast as I figured this payment schedule out, I was getting increasingly irritated by the workload of my decreasingly relevant non-profit fundraising day-job, and decided it was time to quit. I bought a few things and took the remaining money as salary. My last day at work was December 16. After taxes, I only had enough money for a few months at my current salary, but I took the plunge. If I hadn't quit, I'd have known this venture's outcome 100 percent. Now, at least there's a chance at funding and success.
So after three weeks of fulltime startup-dom, I made the decision to apply to the BigApps Challenge. I found that the city had released 2 useful datasets: the identity of all landlords, management companies and the shareholders of every rental, condo and co-op property with 3 units or more in the five boroughs, as well as the complaints made to the city by these buildings' tenants.
Sure, the Big Apps Challenge could win me $10,000. But a friend showed me last weekend that in the 2011 BigApps Ideas Challenge (just ideas for apps, not launch-ready products), one of the winners selected by a panel of judges was a platform that allows "residents to rate their building's owner, management co., and landlord, and lets interested renters browse those ratings."
I couldn't believe I missed this news and it sounded too familiar to pass up. Besides, it'll be a great opportunity to persuade the city to open up more of its data by showing the value of what could be: a site that uses every relevant piece of city data, including still-closed housing violations and lawsuits, to force slumlords to shape up and reward responsible landlords for the first time with free marketing and a flock of renters eager to do business with an honest professional.
If you know anyone that lives in New York, please like my Facebook page, and in February vote for StableRenters in the BigApps Challenge. It will make your life and city better.