---
Calling all firestarters: Ignite innovation and entrepreneurship
Bring your projects and ideas, share insights and inspiration with world-class, world-changing entrepreneurs, investors, changemakers and decision-makers. REGISTER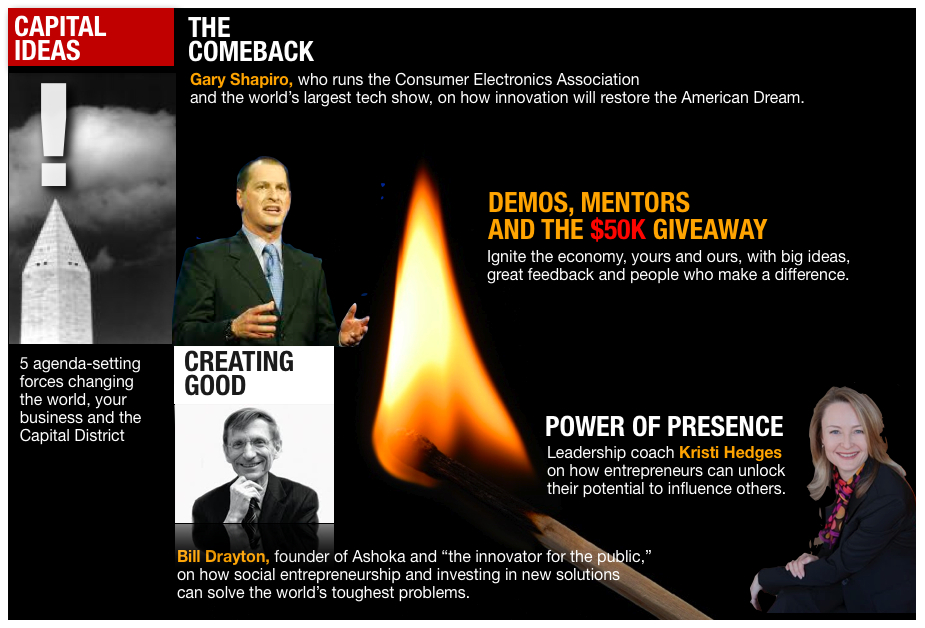 The program
8:30 am: Registration

9:00 – 11:30 MORNING MINDSHARE: IGNITING INNOVATION AND ENTREPRENEURSHIP
A call for Capital Innovation: Five forces from our region that are changing the world
Breakthrough thinking and technology from the nation's Capital District will reshape knowledge, media, security, mobile activities and wellness globally. In a call to action directed at talented innovators in the region, We Media's visionary leaders identify emerging developments, implications and opportunities for the area. Dale Peskin and Andrew Nachison, founders and principals of We Media
The Great American reset
How ingenuity, creativity and entrepreneurial spirit will revive the American economy — and what you can do. Gary Shapiro, President & CEO of the Consumer Electronics Association. With Limor Schafman, President of the Keystone Tech Group.
Creating good: Entrepreneurship for social change
How the power of a simple idea can effect vast social change. A talk with Bill Drayton, founder and chairman of Ashoka
The Power of Presence
How to unlock your potential to influence and engage others. A talk with Kristi Hedges, author and leadership coach.
11:35: Stretch and get ready to start a few fires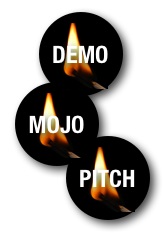 11:45: Demo! Your show, your stage. Make an impression. Bring your devices, show us what you've been working on and make a pitch.
12:30 pm: Lunch and mojo with mentors.
1:30 PitchIt! Challenge. Eight finalists pitch their projects for two $25,000 investments to help launch them. Sponsored by the Ethics & Excellence in Journalism Foundation and the John S. and James L. Knight Foundation
3:00 Live judging. Judges assess the final projects in an open and candid process that reveals keys to entrepreneurial success.
4:00 The PitchIt! Prizes. $25,000 checks award to the two winners.
4:15 The Hangaround. Networking, drinks and meetup. Sponsored by weSpace
5:00 Go home and start something.
---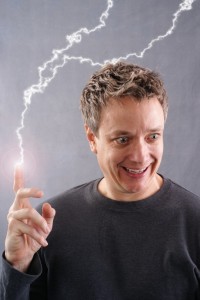 Demos, mentoring and mojo
You're the stars of a brainshare — oh, how we hate to call it a conference — on the ideas, talent and pathways that create social and economic good for a world that desperately needs more good. We're bringing tech stars, digital daVincis, startup legends and shrewd entrepreneurs to seed the good and serve as a resource for your project. But you channel the electricity. Here's how:
1. Demo your project. By registering for We Media PitchIt! you can show off your project and talk about it with influential people who will provide feedback, advice, support, even money. You can sign up a spot on the Demo Program or have a voice in feedback loop with other projects.
2. Speed dating with specialists. Schedule 15-minute consultations with experts on key issues impacting your project such as capitalization, technology, partnering, product development, business models, distribution, audience acquisition, intellectual property, talent and marketing.
We've assembled a brilliant cast of experienced entrepreneurs and investors to judge the competition and advise participants at PitchIt!. You don't have to be a PitchIt! contestant to reap the benefit of good advice. Register for the conference and you can schedule one-on-one sessions with a talented group of entrepreneurs, advisers, investors, accelerators and coaches.
---
PitchIt! Live pitches and judging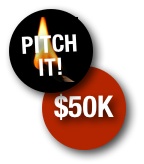 From one hundred forty-five stunning ideas, eight finalists will pitch their projects in a live competition and judging for $50,000. Three thousand people cast votes on ideas that would reshape media, advance information technology, stir advocacy, create good, promote sharing and citizenship, enhance conversations around important issues, serve the information needs of society, enhance education, create jobs and change the world.
The finalists:
Check out and comment on all the big ideas here.
Pitches begin at 1:30 pm, with live judging to follow. Meet the judges and tap into their expertise.

---
Tap into connections: Mobile app matches interests and attendees
Launch a customized mobile application from your smartphone to connect with the right people at PitchIt!. The app from TappedIn will match you with attendees with similar interests. You can avoid awkward introductions, arrange meetings and start meaningful conversations. se the TappedIn app for iPhone or Android phones to meet people at PitchIt.
Here's how it works: When you register for PitchIt you'll be asked to complete a brief survey. You'll receive personalized introductions to other participants after granting permission to share contact details and survey responses. A few days before the event, you'll receive an email with introductions to other conference participants and instructions on how to follow up with them. You can then download TappedIn for iPhone or Android and use it to connect with people, meet them at the event, or follow up with them afer.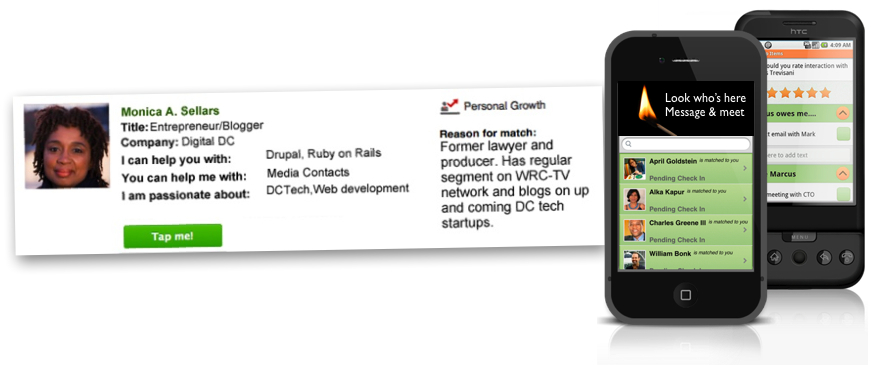 ---
Being there: Getting to Gannett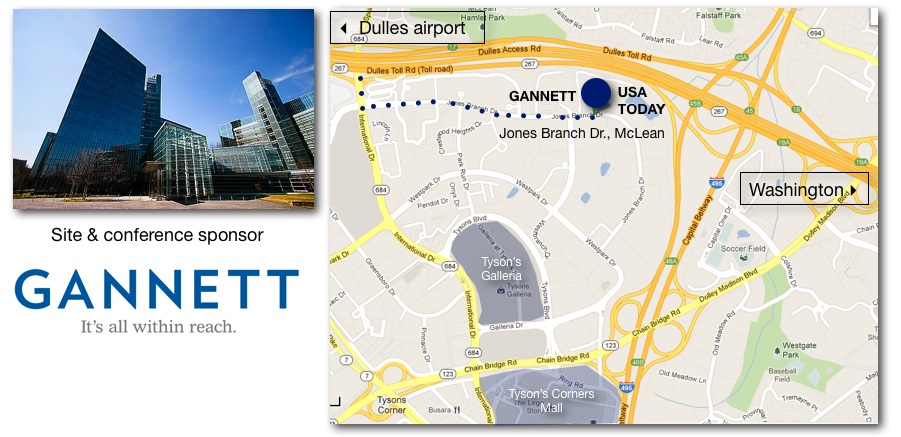 7950 Jones Branch Drive, McLean, VA 22107 (703) 854-6000 Click for directions
Parking
There are three entrances to the Gannett Building from Jones Branch Drive. You should enter through the Service / Employee Entrance. Coming east on Jones Branch Drive, the parking entrance is the third on the right once you see the Gannett Building. Coming west on Jones Branch Drive, the parking entrance is the first on the left. There are signs posted for all events indicating Event/Visitor Parking entrance. Once you arrive at the garage entrance, you should indicate you are attending an event and a security guard will direct you to the designated parking locations. Once you enter the building, a set of stairs or elevator will bring you into the lobby, where you'll find the the check-in area for the conference.
---
Hotels
We do not have an "official" hotel. The following hotels are all close to the conference venue:
Hilton McLean Tysons Corner
7920 Jones Branch Drive, McLean, Virginia, United States 22102
(703) 847-5000
(This is the closest – virtually next door and a short walk to Gannett).
The Ritz-Carlton, Tysons Corner Hotel
1700 Tysons Boulevard, McLean, VA 0.5 mi SW
(703) 506-4300
Crowne Plaza Tysons Corner-Mclean
1960 Chain Bridge Road, McLean, VA0.9 mi SW
(703) 893-2100
Courtyard Tysons Corner Fairfax
1960 Chain Bridge Rd # A, Mc Lean, VA 0.9 mi SW
(703) 790-0207
Homestead Studio Suites
8201 Old Courthouse Road, Vienna, VA 1.4 mi S
(800) 804-3724
Tysons Corner Marriott
8028 Leesburg Pike, Tysons Corner, VA 1.2 mi S
(800) 228-9290
---
Sponsors & Partners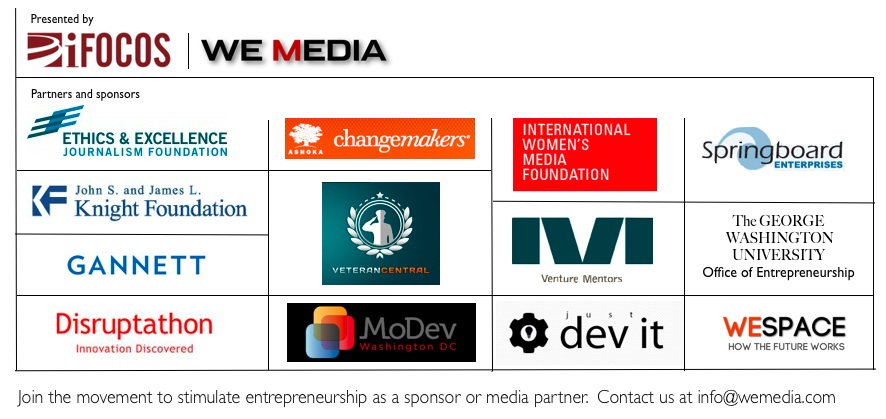 ---
The We Media Experience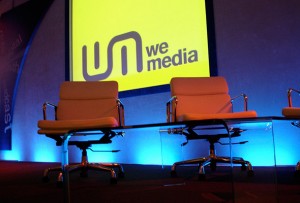 We Media conferences celebrate the people, projects, ideas and organizations leading change and inspiring a better world through media and technology. Since 2005 We Media conferences in New York, London, Miami, Washington, Melbourne (Australia) and Buenos Aires have informed, inspired and ignited companies, organizations and individuals seeking to understand and profit from the "power of us." Dozens of new projects, hundreds of new relationships, and scores of partnerships and investments have emerged from the participatory activities and key connections forged at We Media. Participants include media, technology, news and advertising CEOs, chief marketing, strategy and business development officers, social entrepreneurs, media buyers, venture capital and private-equity investors, researchers, educators, social activists and leading journalists and bloggers. Thousands of online viewers and participants tune in, follow and interact for intimate, high-level, collaborative and participatory experiences.
---