Sputnik: An observatory above the ordinary

Jonathan Harris is one of few designer/developers exploring new territories for stortytelling in the digital age. In The Whale Hunt, he gave us new ways to experience a story through creative interfaces of perspective, understanding and sensory engagement.
Jonathan is back with a new project, The Sputnik Obervatory, that documents contemporary culture through video interviews with  leading thinkers in fields as diverse as quantum physics, mathematics, neuroscience, biology, economics, architecture, digital art, video games, computer science and music. Harris says the premise is "that everything is connected to everything else."
The project,  the result of a two-year collaboration with New York-based Sputnik, Inc., soars with provocative ideas that  highlight the interconnections between seemingly disparate thinkers and ideas. At its core is a creative navigational system  — a Harris hallmark — where every thought leads to another thought.
The language of the interface can be unfamilar and esoteric — learn how a mobile bacteria called a spirochete can help you think about big things — but the journey through complex ideas is worth the trip. The site weaves Web 2.0 participation and sharing  as it swims the streams of Big Think consciousness, all while managing to maintain the voice, context and perspective of experts who rise above the wisdom of the crowds.
At a time when most web wites are designed for the dumb, Harris and Sputnik send design and storytelling on the Web into a higher orbit.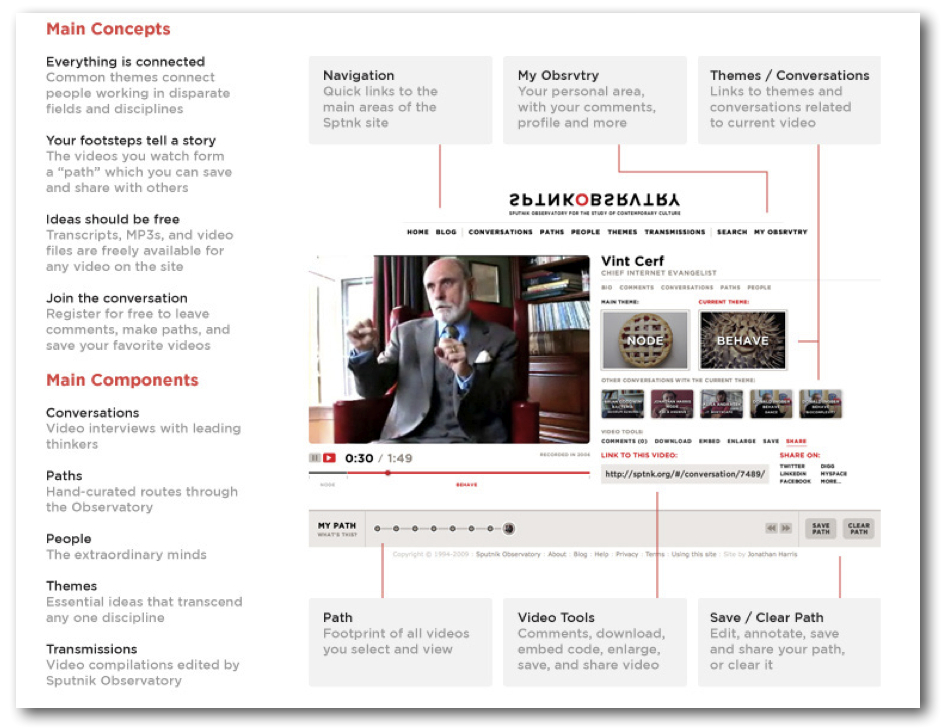 Dale is co-founder emeritus of We Media.