Talk with customers, work your tradeshows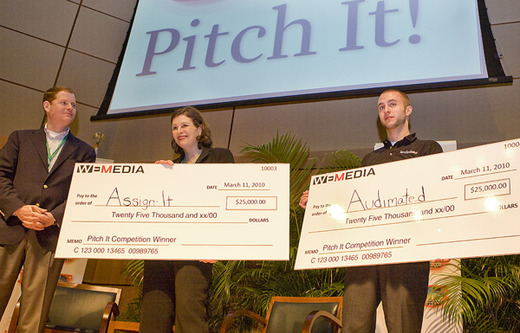 Lucas Sommer is founder and CEO of Audimated, an online marketing and merchandizing service for independent musicians and fans. It was one of the 2010 We Media PitchIt Challenge winners. We help the winners turn their ideas into something real – and they pay it forward by sharing their experiences and insights with entrepreneurs who follow in their footsteps.
---
Quick update: Audimated is doing great with thousands of artists and fans using the platform to experience music in a whole new way. We had to increase our server capacity to keep up with demand and hired a full time programmer to improve the interface and service. We simplified many features, but still have a lot of development work ahead of us.
Last fall we learned the importance of personally talking with customers when we took the whole team to New York for the CMJ Music Festival to speak with artists face to face about our business model and their careers in music. The comments and feedback we received from artists and fans validated that what we are doing is valuable. We also got a chance to meet some key industry players like attorneys, record label executives and radio programmers. Talking with other business people in music gave us a chance to see some new opportunities from a different perspective. Working remotely or from behind a computer/phone doesn't give you the same connection with the users of your business. It is important to get out there and shake hands.
Prepare for trade shows
If you think going to a trade show is in the best interest of your business, make sure you are well prepared. Consider practicing setting up your table/booth before hand. Set up a checklist of everything that you will need. Find out how many people attended last year and consider what you will be saying to people interested in your business. Practicing your "pitch" or at least the message you wish to convey is a great idea.
What do you want people to take away after leaving your booth? Trade show visitors are used to grabbing free stuff off of tables so make sure that what you are giving away is valuable and most importantly relevant. It doesn't have to be expensive, it just has to be relevant and interesting to your market (Audimated used guitar picks).
If you pass out fliers (I suggest you do) make sure the information on them is concise. What is the one thing that you want people to take away from the flier? Sometimes less is more. Also consider what will be going on behind or next to you. You don't want to have blank walls or backgrounds that don't support your brand.
When meeting customers at a trade show – or anywhere – it's important to consider what you want to achieve. If it is just feedback you should document it. If it is sign ups on your website you should have a way to do that right then and there. Identify your goals beforehand and you will have a greater chance of "converting."
Lucas started three successful music business companies which he continues to own and operate profitably. Lucas has placed songs with The Howard Stern Show, worked with professional athletes, placed songs with Zumba Fitness on a nationwide DVD campaign and currently manages, promotes and markets several South Florida musicians. His newest venture is Audimated.com, a game-changing site that is revolutionizing the independent music scene. Currently, Lucas is a full time entrepreneur and won a $25,000 Pitch It contest from WeMedia to apply towards Audimated. His educational background includes specialties in finance and music media and industry.