Valencia's City of Arts and Sciences, architecture designed to inform, entertain and inspire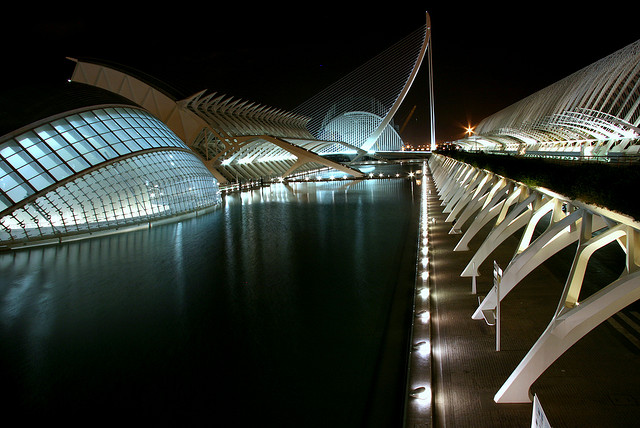 From a city founded in the 2nd Century BC comes a glimpse into how the city of the future might work — with equal shares of brilliance and problems. The astonishing City of Arts and Sciences (many photos here) transports Valencia, Spain, into the future with architecture designed to inform and entertain. Technology and the imagination of architect Santiago Calatrava transform Valencia's dense monumental heritage into a public center that celebrates discovery and knowledge.
In the early 1990s, architects began using parametric software and computer-assisted design (CAD) to push the boundaries of architecture by redefining the relationships between different aspects of a design, or pushing engineering to extreme limits. Increase the curve of a wall or adjust the area of a floor and the software automatically draws a new set of plans. Architects now use these programs to let software lead design, making possible previously unbuildable forms.
In his native Valencia, Calatrava applies a creative vision of the new public space with the arches and curvalinear cables that have become his signature. A Gothic cathedral is reimagined as a futuristic museum. An Imax theater that houses a cinema, laserarium and planetarium looks like a brain. An Eye of Knowledge opens to the sky. An aquarium opens to the water and mimics the environment of the seas. An opera house and cultural center sweep toward the sky. An elegant bridges connects parks and public spaces on both sides of the Turia River, once a flood plain in an industrial area on the Costa del Azahar.
Ahead of its time, some Valencians complain that the architecture overwhelms the content, as well as the public's ability to pay for it. While Calatrava's city applies energy-efficient and extreme engineering, its buildings have been know to leak. Which recalls Frank Lloyd Wright's defense that "if the roof doesn't leak, the architect hasn't been creative enough."

Dale is co-founder emeritus of We Media.