A Disruptathon at TRDC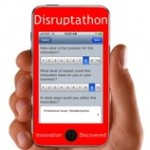 Attendees at TRDC can disrupt conventional thinking and stimulate innovation by using Disruptathon's mobile application platform at the event.
Ask questions, raise issues, arrange meet-ups, provide feedback, or note key findings for innovation from the conference. Just bring your iPad and download the Disruptathon app. Or use an iTouch that Disruptathon founder Pete Erickson will provide you at the conference.
TRDC is all about creativity, connections and the latest technology. It's about participation, too. The Disruptathon platform is just one way we'll capture ideas and examples from everyone, including TR's group of Digital da Vincis.
Panels and Powerpoints are for the Digital Dinosaurs. Join us for creative conversation, striking show-and-tell and cool connections on Monday, June 14 at Gannett-USA TODAY headquarters from 1 to 4:30 pm. Check out the latest on the program and watch the video.
Register today.

Dale is co-founder emeritus of We Media.