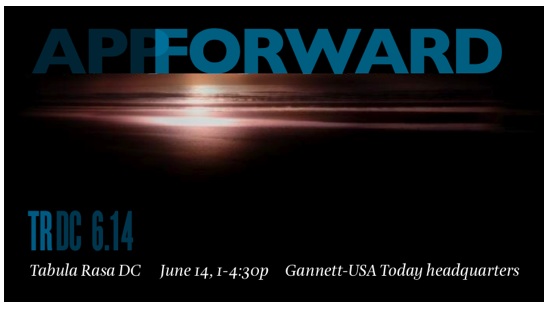 It's your turn Washington.
On April 29 we launched Tabula Rasa NYC just as the first iPads were coming out of the box. We showcased the most impressive apps from a creative class of innovators. We explained how to navigate the App Economy. And we showed how to develop an apptitude for developing content and commerce for the Digital Now.
Two million iPads have been unboxed in just a few weeks. 2300 pay-for apps are now creating cash flow on the iTunes store. Only one question remains: What's your app?
We're bringing Tabula Rasa to the Gannett-USA TODAY campus from 1-4:30 pm on June 14 to help you answer the question.
Media-maker competing for audience? Jump the competition.
Developing apps for your business or service? Get an edge.
Designer or developer? Show off.
Federal agency deciding how to better inform citizens? Engage.
Social entrepreneur trying to spread the cause? Sign up for a heaping serving of good.
Securing the homeland? Fast track through the security line.
We've been preparing for this creative moment since we bought our first Mac II back in the Dark Ages. Read our Right>Brain agenda for achieving meaning in the Conceptual Age.
What to do
We're assembling another master cast (see our group in NYC) of innovators, developers and visionaries — we call them Davincis — for hands-on guidance, creative inspiration and how-to maps for apps on the iPad and the wave of mobile, high-concept, high-touch personal computers. We'll demonstrate how first-movers create advantage. We'll show how the app-savvy can expand engagement. We'll flash forward to the shiny new things that will make your eyes pop in the exciting years to come. But mostly we'll help you figure out what to do now, as well as in your flash-forward future.
Who should attend?
TRDC is designed for a diverse mix of business strategists, designers, developers and communication professionals from media; government agencies and service providers; NGOs, associations and non-profits; device-makers; designer-developers; techies, marketers, investors, as well as mobilecom, telecom, social media and entertainment transformers.
A nutritional disclosure: We eat our own cooking. Tabula Rasa is hands-on, presented on the iPad. Bring yours.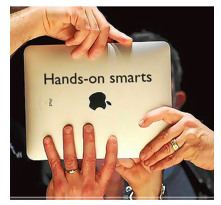 Our experts will show how to get the most out of it, make you aware of its limitations, and disclose what's coming next. We'll also provide a glimpse of other shiny new things headed our way, as well as what they mean.
There's nothing mushy about TR. It's not one of those me-too conferences with posers who sit on panels and complain about Facebook. Save the five-hundred bucks (or more) for those conferences; buy an iPad instead. At $200, Tabula Rasa is less than half of what the iPad-come-lately conferences charge.
We know where this moment leads. Check out our agenda here and join us.
You get the point Washington. Space is limited, so register today and watch this blog for updates on the program and participants.
Interested in throwing down your app? Contact dale@wemedia.com
Meet the da Vincis
Channeling the spirit of Leonardo, a diverse and multi-talented group of Digital da Vincis will help guide us through the creative moment. They'll share experiences, add expert insights, help us shape the conversation.
Leonardo would hate Powerpoints and panels almost as much as we do. We'd rather show, share and do. The da Vincis will serve as guides with a unique perspective into opportunities and issues for innovators and explorers. They include:
Content and marketing strategist TIFFANY SCHAKELFORD. Tiffany is the senior communications strategist at Phase2 Technology in Alexandria, Va. She serves as the Executive Director of Capitolbeat, the Association of Capitol Reporters and Editor and organizes the Washington DC area Online News Association group. She previously worked on the staff of the Democratic Leadership Council and Progressive Policy Institute and served as the Assistant Managing Editor at Stateline.org a nonprofit, nonpartisan online news site affiliated with the Pew Research Center.

Pollster extraordinaire and audience analyst JOHN ZOGBY. Well-known across media platforms, John is the author of The Way We'll Be and chairman of the Board and Chief Insights Officer of Zogby International, a worldwide research and marketing firm. He also serves as Senior Advisor at the Kennedy School of Government at Harvard University and recently accepted an appointment to the Advisory Council for the National Council for International Visitors (NCIV). He is the first Senior Fellow of the Catholic University Life Cycle Institute in Washington, but is also proud to have been spoofed on NPR's All Things Considered and twice interviewed by Jon Stewart on The Daily Show.

Inventor and tech star DANNY ESPINOZA. The founder and CTO of CardStar, Danny invented the company's patent-pending SyncScan technology that allows for effective rendering of 1-D barcodes on mobile phone LCD screens. A software architect, designer and developer with 25 years of professional experience, Danny is also a serial entrepreneur that has founded a number of innovative technology companies including Lumifi LLC, Quece LLC and Mesa Dynamics LLC.

Mobile/ventures entrepreneur RICK ROBINSON. Rick has been a leader in the creation of innovative online content, products and community for multiple platforms since the early1990s. He helped aunch AOL's Digital City and later led operations for the DCI network, pioneering what has come to be known as "geobrowsing," as well as leading the efforts to deliver content across early handheld and mobile devices. A patent holder, he helped found AOL Wireless in 2000, launching content and community apps on several wireless carriers, and partnering with marketers providing WAP and SMS marketing programs. He left AOL in 2005 for start-up Freewebs.com where he led product and programming, helping to pioneer widget innovation around content and marketing. In 2007 he became VP of Products and Services for XOHM, Sprint's foray into 4G broadband, where he oversaw a successful launch of the products and content services prior to its acquisition by Clearwire. In 2009 until April of this year he spent time in Malaysia helping YTL Communications prepare for the first ever nationwide launch of 4G mobile services as head of Customer Experience and Innovation Programs. Today Rick advises companies on Web strategy and manages startups at sonicgleek.com.

Social Media Marketing expert ROHIT BHARGAVA. Rohit pioneered the concept of Social Media Optimization (SMO). A founding member of the 360 Digital Influence group at Ogilvy 360 Digital Influence, he is the author of Personality Not Included, a guide on how to use personality to reinvent your marketing that has been published globally in 8 languages. He writes the Influential Marketing blog, ranked by AdAge among the top 50 marketing blogs in the world, and has been featured in The Wall Street Journal, BusinessWeek, PBS, SkyNews, MarketingChina and Fast Company. Rohit teaches Global Communications at Georgetown University and is a frequent keynote speaker at marketing and business events around the world.

Tall guy and digital high-flyer JOSH HATCH. Josh is Interactives Director at USA TODAY and an adjunct professor at American University. He consults with Webbmedia Group.

Designer/developer ROB RHYNE. Rob builds stuff. He's a designer, a developer and cooks a mean baked ziti. Tragically, he believes that software should be beautiful to the user and the developer. Rob, along with Dave Mark and Jeff LaMarche are MartianCraft: a Cocoa and mobile development studio. He developed Briefs (http://giveabrief.com), a framework for building rapid prototypes for the iPhone & iPod Touch, so he could explain to his Mom what he does for a living. He has been a Cocoa developer (both Mac & iPhone) for 7 years, but has been building things since he was six.

He's an obsessive craftsman. Rob is in the business of building beautiful things.

Strategy consultant BRIAN REICH. Managing Director of little m media, Brian provides strategic guidance around the use of the internet and technology for communications, engagement, education, and mobilization. Brian is also the author of Media Rules!: Mastering Today's Technology to Connect With and Keep Your Audience (Wiley 2007). He edits Thinking About Media (www.thinkingaboutmedia.com) and contributes as a Fast Company Expert. Brian was previously a principal at EchoDitto, Director of New Media for Cone Inc, and served asaSenior Strategic Consultant and Director of Boston Operations for Mindshare Interactive Campaigns, an interactive public affairs agency. From 2000 – 2004, he ran Mouse Communications after serving two years as Vice President Gore's Briefing Director in the White House. Brian has spent much of his life working in and around politics, including helping to direct dozens of campaigns across the country.

Financial manager and entrepreneur RICHARD BRINDISI. CFO/COO at KvJ&Co. and its Oh!magination start-up, Richard brings deep experience in financial management to the innovation age. He's a partner at 4731 Consulting and has served as a consultant for Plante Moran Financial Advisors and Lotus Capital Advisors. A graduate of of the University of Richmond School of Law, Richard has also served as a director for Credit Suisse First Boston and Sun Life Financial.

Digital media and brand architect LESLI ROTENBERG. Senior Vice President for Children's Media and Brand Management at PBS, Lesli leads PBS KIDS Next Generation Media, an initiative defining the role PBS will play in the changing digital children's media landscape. Most immediately prescribed by this initiative was the new hosted preschool multi-platform destination that launched in September 2006. Additionally, she oversees the strategic positioning of primetime and children's programming, online content and education services across a growing number of media platforms. She is responsible for building and extending the brand equity of PBS and PBS KIDS, the most trusted media brands in the U.S., and meeting the strategic communications needs of PBS and its 355 member stations. Her responsibilities include national oversight of PBS' creative services including on-air and print production, advertising strategy, media planning, and station professional development. Lesli was named one of the nation's top 15 "Women to Watch" by Advertising Age in 2001. Prior to joining PBS in November 2000, she was Vice President, Marketing, at Animal Planet, and a marketing executive at Discovery for 10 years.
App Forward: The program
12:30 pm: Registration at Gannett conference center (directions below)
1 pm: The Apportunity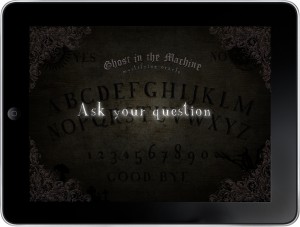 In just a few weeks, a stunning future has emerged with new markets, audiences and opportunities. We'll describe how it both disrupts and enhances personal computing and digital communications. We'll demo the best, early responses and measure their success. And we'll show where this moment of creativity, innovation and entrepreneurship leads.
— Design-driven innovation
— Shiny new things
— Everyone, everything, everywhere
— Right>Brain Rules
1:45: Apponomics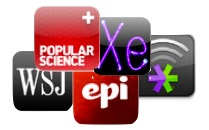 Please don't ask "where's the money?"
Play and prosper in the App Economy.
— How to profit
— Open vs. Apple
— The balance sheet
— Creating good
— Engagement

2:30: Meet the DaVincis: Networking and coffee break at our Genuis Bar

3:00 Apptitude
How to get it. Get down with developers.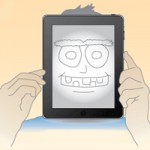 — Fast company
— What to do. And with whom.
— Test drives
3:30: Throwdown DC
Demo your so-cool app and get some good back from DC's top innovators
Want to throw down your app or idea? Email dale@wemedia.com to get on the program.

Getting to Gannett
---
Sponsors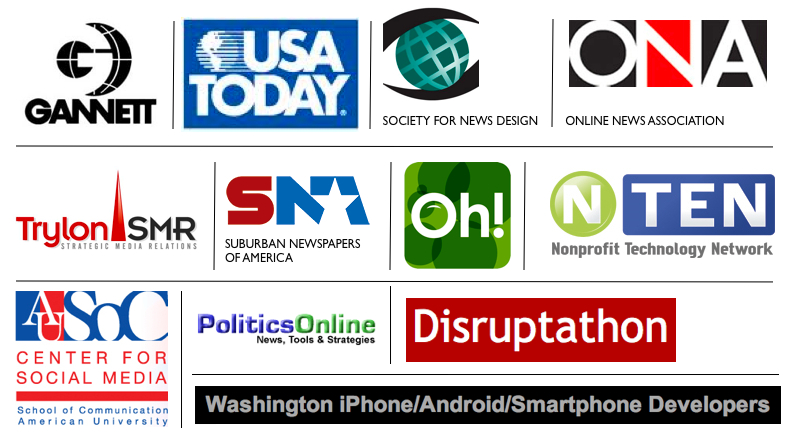 Gannett | USAToday | TrylonSMR | Society for News Design | Online News Association | Suburban Newspaper Association | NTEN
---

---