Introducing Fast Cast
Nine finalists will present their ideas for new ventures at the We Media NYC conference on April 6, 2011. A panel of judges will select two winners – and each will receive $25,000 and access to a network of mentors to help them launch. Fast Cast is one of the finalists. To register for the conference, click here.
---
FastCast: Mobile Video News
Based in San Francisco, CA
Presented at We Media NYC PitchIt Challenge by Founder and Executive Producer Mariel Myers
Contact:
Mariel Calizo Myers
mariel.myers@fastcastmobile.com
415.680.4321
http://fastcastmobile.com
THE TEAM
Our management team includes two award-winning broadcast news veterans, an engineer with experience at start-ups and Fortune 500 companies, and a former editor at an online journalism start-up.
Founder/CEO and Executive Producer Mariel Myers is an Emmy award-winning producer with 14 years experience as a local news producer and video-storyteller. She recently launched a daily, live, interactive TV news and talk show on ABC7/KGO-TV, where she oversees the editorial content and social media interactivity. As Managing Editor of Yahoo's Digital Media Bureau, she produced original video content for social media, as well as internal and consumer broadcast. For 10 years, she was a news producer at CBS5 in San Francisco, where she won an Emmy for Best Daytime Newscast and the Associated Press, Television and Radio Association Award for Best Webcast. Mariel was also selected for the Knight Digital Media Center's Multimedia Journalism Fellowship at UC Berkeley and is a graduate of the Asian American Journalists Association Executive Leadership Program.
Engineer Alex Wong is an independent software consultant with more than 15 years experience. He has helped companies of all sizes, from nascent startups to Fortune 500 corporations, successfully delivering on software projects by providing expertise in development, architecture and management. He has built solutions in everything from large-scale distributed systems to rich internet frontends for clients such as Sun Microsystems, Chiron Corporation, Verizon, Skype, BrightRoll and MaestroConference.
Kaizar Campwala is a graduate student at UCLA's Anderson School of Management, where he is focused on corporate strategy. He is also adjunct faculty member at the Poynter Institute, researching sustainable models for producing high quality journalism in this data rich, digital era. Kaizar is the former editor of the online startup NewsTrust, where citizens can rate stories for facts, fairness, context and other core journalistic principles. At NewsTrust, Kaizar coordinated editorial activities on the site, managed partnerships with organizations such as the Washington Post, USA Today, and Huffington Post, and oversaw the growth of the community to nearly 20,000 members.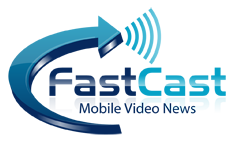 THE IDEA
FastCast delivers a local, personalized, video newscast straight to mobile, capitalizing on the booming mobile user market.
THE PROBLEM AND THE FASTCAST SOLUTION
People need local news to help them live their lives. TV news is often inconvenient and irrelevant, with no control of the delivery or content. People do not have time to wait for a TV newscast and sit through stories of little interest to them. Checking news online is a multi-step process that can be impractical, time-consuming and overwhelming. You have to log on, click in and out of numerous stories, and sort out which stories are reliable and worth your time. The video news found online is often a regurgitation of the TV news broadcast, requiring a lot of effort to find the stories you want. News has to go where the audience is, and there is a huge, growing mobile audience.
FastCast offers an efficient and convenient way to watch a personalized, local newscast anywhere, anytime on your mobile device. With the app, you select topics of interest and touch one button that immediately launches a personalized newscast of short video segments summarizing the top stories. So in 3 minutes, you could get caught up on 12 stories in a variety of topics without a lot of effort. Instead of shifting through layers of information or multiple screens, users get the news headlines they care about in a way that is easy to access and digest.
Professional, multi-media journalists will create the high-quality local news and video to keep you in the know on the go.
What makes FastCast innovative?
Disruptive Distribution: No one is creating personalized, video newscasts exclusively for mobile distribution and consumption on the local level. It could effectively reach diverse groups of people, like students, working parents and business travelers who increasingly rely more on mobile devices to stay informed as well as disenfranchised TV viewers and Millennials who do not watch local news.
Personalized News: FastCast provides people a voice in the news they consume, unlike the one-way flow of information from most TV and online news outlets. It will also include interactivity and social features, allowing for user feedback.
Content: Locally Relevant, Created not Aggregated: FastCast's content will focus on local news unavailable in a convenient way elsewhere. It would cover topics such as high school and college sports, community news, business, health, tech, education, parenting and local events. No one is making easily digestible, user-friendly, three-minute newscasts with local content. It is challenging to produce properly, from the editorial to the production to the distribution, if you do not have experience creating video news content on a daily basis. We will be using the best practices established over the years in local TV news adapted for the mobile platform.
Scalable: The concept can be executed in a variety of cities. Distribution channels may also include airlines and hotels.
Form and Function: The FastCast content will be different in length and format from local TV news. Producing video news for mobile requires a different presentation to address the unique user experience. On mobile, people usually consume content in short bursts at their convenience instead of sitting around for 30 minutes at a designated time to watch TV news.
What's the current status?
The FastCast Team is working on the second version of a prototype after receiving feedback on an initial computer demo that mimicked the experience on an iPhone. From the feedback, users liked the distribution, presentation and interactivity, but they wanted even more localized content. We are now developing a second demo for wider distribution and testing, identifying the appropriate local news sources and developing a more efficient news-gathering process.
We are currently bootstrapping the project.
How will it earn money/be sustained?
FastCast will pursue a diversified revenue strategy including video production, local ads and partnerships.
1) Special event services [year one] Produce FastCast segments delivered through an event app or FastCast app targeting event participants, such as convention attendees.
2) Event promotion [year one] Create promotional videos for local event organizers for distribution on mobile and linked to mobile check-ins.
3) Local advertising [year two] Local, personalized mobile ads
4) Partnerships with hotels [year three] Hotels and other hospitality providers would offer FastCast local newscasts as a premium service to their guests.
5) Partnerships with airlines [year four] Airline passengers would arrive at their destination and a FastCast newscast for that city would be programmed to automatically download to their mobile device for a quick local news update.
Market overview, competitive analysis
A majority of Americans still get their local news from television, but viewership has dropped dramatically. Nielsen found local TV stations lost 4.1 million viewers in 2009, twice as many as they lost in 2008. According to the Pew Research Center, news viewership was down for the fourth year in a row among network affiliates in all of the major time slots.
Meanwhile, Nielsen estimates one in two Americans will have a smartphone by Christmas of 2011 and also found, on a year-to-year basis, the number of people watching mobile video increased more than 43%, while the amount of time spent doing so was up almost 7%.
Currently in mobile, most news apps are text-based, aggregated content or are smaller versions of TV news websites. Most local TV news outlets have pushed their websites onto the smaller mobile screen with hard-to-find video and require extensive navigation. They fail to produce new or edited content that is geared to how news consumers engage with video content on their mobile devices.
The Open Mobile Video Coalition, along with the broadcast group Mobile Content Venture, are working to broadcast live TV on mobile, essentially simulcasting their broadcast signal. However, similar to live TV, there is no time-shifted viewing or personalization of the local news content.
There are few, professionally produced local video news services online. Most online video news ventures are more national in scope. Amateur local news content is available on sites such as YouTube, but is not comprehensive, well-contextualized, or particularly easy to find.
FastCast will maintain high journalistic standards since professional multi-media journalists would create and oversee the editorial content. Users would get the best of both worlds–personalized and professional news, delivered in a convenient and easy way, to watch whenever and wherever they want.
If you win the challenge, how will you use the $25,000 to help you go further?
Fastcast's most important assets, a staff with significant experience producing high quality video news content, is already in place and ready to start producing content for the launch city of San Francisco.
Therefore, the $25,000 prize would be used for finishing development of the first versions of our mobile applications for iOS and Android. With this critical piece in place, FastCast can begin producing and distributing our local news product.
How will this investment impact the project?
FastCast aims to make local video news relevant again in people's lives. We want to help people who are disenchanted by, or otherwise disconnected from, local TV news to reconnect with their communities. For the generation of people who have turned away from local TV news, FastCast is a chance to capture their attention, bring them into the local news fold and engage them with the community they live in, not just the community they socialize with online.
We hope to change how local video news is produced, distributed and consumed, and help build mobile as another platform for constant news and information. We want to demonstrate a sustainable business model for journalism, mobile news and local advertising. An investment from We Media will help jump start this mobile news revolution

We use technology. We love stories. Contact us here.