---
---

Wednesday, April 6 The program
The personal technocracy is upon us. It's social, mobile and very personal. It redefines communications, reframes media, reshapes business and takes down tyrants.
With lightening flashes of bountiful brevity, the architects of the personal technocracy show how it is changing our work, our ambitions, our lives. Innovators and entrepreneurs of the creative moment demo and pitch projects that shape things to come.

8:30 Arrive, sign-in, meet and greet
9:00 The personal technocracy: Why we matter
Dale Peskin & Andrew Nachison, We Media
The power shift in the post-newspaper era, the rise and fall of information empires, the mobile everything and the personal brand.
— Hosted by Alan Webber, founder of Fast Company and author of Rules of Thumb.
9:30 People, not iPads
Scott Heiferman, Meetup founder and chief organizer of Meetup
9:50 Life on Twitter and other revolutions
Mona Eltahawy, independent journalist
10:10 Rex Sorgatz: Conversations with ourselves
Rex Sorgatz, Kinda Sorta Media
10:30 Digital Jetsetter: Navigating Tech & Social Media
Corvida Raven, SheGeeks
10:50 Break and networking
11:10 Curation Nation
Magnify Media founder Steve Rosenbaum, author of Curation Nation.

11:30 Collaborative Consumption
Steve Rubel, SVP for insights at Edelman PR, and Roo Rogers,
co-author of What's Mine is Yours: the Rise of Collaborative Consumption and founder of Redscout Ventures.
Noon Lunch and networking
1:00 Managing life with the mobile Internet
Ian Heidt, Qualcomm. Demo of Neer, mobile location-sharing app.
1:20 How to make things
Nate Westheimer, 0hours
1:40 Pitch It: Start-up stories with Ben Berkowitz of SeeClickFix and Melinda Wittstock, NewsIt
2:00 Pitch It for $50k
Sponsored by the Ethics & Excellence in Journalism Foundation and John S. and James L. Knight Foundation
Eight early-stage companies pitch for $25k. Hear them roar: Each gets eight minutes to make their case. Judges select two winners and we award two, $25k checks to help launch the next big thing. Meet the 2011 finalists of this year's We Media PitchIt Challenge:
The Judges: Bill Weiss (judging chair), Chairman/CEO, The Promar Group & board chair, iFOCOS; Michael Smith, VP of Social Innovation, Case Foundation; Shelley Kuipers, Chair & CEO, Chaordix; Anil Dash, Managing Director, Activate & Expert Labs; Rafat Ali, Founder, PaidContent; Charlie O'Donnell, Principal, First Round Capital

3:45 Break, networking and Pitch It deliberations begin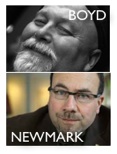 4:00 Work Media: The Social Future Of Work
Stowe Boyd, social philosopher and web anthropologist
4:30 A conversation with Craig Newmark
The craigslist founder connected 100 million people. Now he wants your help connecting the world for the common good.
4:50 Pitch It winners announced
5:00 Adjourn
Where the Power of Us meets The Moment
The annual We Media conference is where technovators, changemakers and socialpreneurs apply media, tech and "the power of us" to bring solutions to 21st Century challenges. With a fresh of-the-moment theme each year, the We Media conference features the people and ideas shaping media, technology and society. We feature breakthrough ideas and inspiring gamechangers. The program is conversational and participation is limited to keep it intimate, personal, meaningful and valuable.

For people who make things happen
Now in its seventh year, the We Media conference returns to New York City, where Al Gore first helped us set an agenda for participatory media, a better-informed society and social action enabled by technology.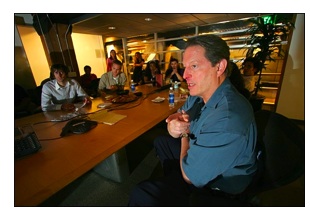 Since 2004, We Media conferences in Los Angeles, New York, London, Melbourne, Washington, Miami and Buenos Aires have informed, inspired and ignited companies, organizations and individuals seeking to understand, inform, inspire, invest and profit from the "power of us." Big thinkers, achievers and innovators give We Media its Whuffie. From Reuters CEO Tom Glocer to craigslist founder Craig Newmark, from policy leaders of the UN to marketers and content creators, from artists and story-tellers to healthcare innovators, from social activists to founders, financiers, CEOs and entrepreneurs, We Media brings together leaders who share insights and experiences shaping the world of the connected society and its new marketplaces. Dozens of new projects, hundreds of new relationships and scores of solutions, partnerships and investments have emerged from the activities and key connections forged at We Media conferences.

Bring your bold ideas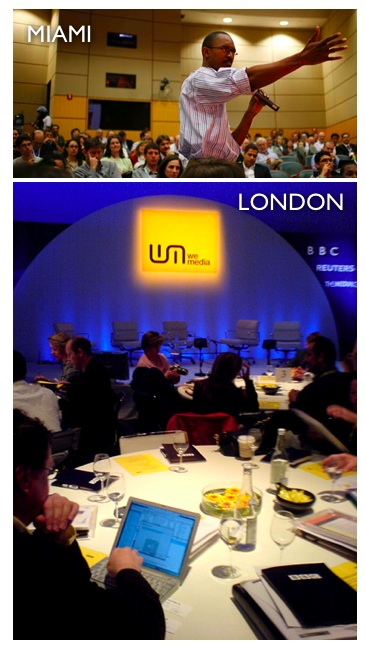 The program is topical, participatory and typically provocative. We frown on PowerPoints and panels, but celebrate human interaction surrounded by awesome multi-media and mobile, realtime connectivity. Activities include conversations with game changers, workshops, networking, demos of transformational tech, businesses and services. We also deliver prescient research and case studies from iFOCOS, our media think tank and futures lab.

Connect
We Media connects business leaders, technologists, investors, entrepreneurs, news and product managers, social activists, public policy-makers and knowledge creators with each other and to emergent information technologies that enable people and organizations to communicate, solve problems and conduct business. It advances and enhances the structures, models and economies that support human communication, interaction and achievement. Execs, strategists, publishers, editors-in-chief, broadcasters, technologists, marketers, venture capitalists, producers, developers, funders and investors, journos, bloggers, social activists and educators come for the brainpower, not the titles. C-level suits mix it up with the young guns of digital media. Thousands of online viewers and participants tune in, follow, interact and follow up.

Make it real: PitchIt! mentoring program on Tuesday, April 5
The We Media conference is about making the possible real. We connect Pitch It! Challenge finalists with accomplished entrepreneurs, business leaders and funders at a pre-conference workshop. Funded by the Knight Foundation, the workshop cultivates promising, early-stage ideas into sound strategies for development. This year's program, which is by invitation only, runs from 1 to 4 pm on Tuesday, April 5 and is hosted by Cooley.
Participating mentors:
Rafat Ali, Founder, PaidContent
Ben Berkowitz, Founder, SeeClickFix
Melinda Wittsock, Founder, NewsIT
Stowe Boyd, startup product advisor
William C. Weiss, Chairman, The Promar Group
Shelley Kuipers, CEO, Chaordix
Anil Dash, Co-Founder and Managing Director at Activate/Expert Labs
Steve Rosenbaum, CEO, Magnify.net (invited)
Diana Wells, President, Ashoka
Leon Zilber, VP, Business Development, Cooley
Andrew Nachison, Co-Founder, We Media
Dale Peskin, Co-Founder, We Media
More about the Pitch IT! Challenge.

Mix and mingle with MediaShift on Tuesday eve, April 5
We're teaming up with PBS MediaShift April 5 to kick off the We Media NYC Conference, and you're invited. Have a drink or a chat with We Media organizers Andrew Nachison and Dale Peskin, Pitch IT! finalists and mentors, and the folks from MediaShift, including Mark Glaser and Dorian Benkoil, The first round is on MediaShift.
If you'd like to join us, please sign up for the RSVP list.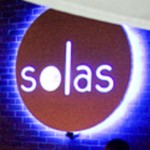 Mixer Details | Click to RSVP
Tuesday, April 5, 2011
6 pm to 9 pm
Solas Bar
232 E 9th St (between Stuyvesant St & 2nd Ave), New York, NY 10003
(917) 402-5217 | Yelp map
Presented with iFOCOS
We Media NYC and the PitchIt! Challenge are presented with iFOCOS, the media think tank and futures lab. Click here to join and support iFOCOS.
People
The following conference participants have shared their social media links:
Hotels
Gild Hall (Thompson Hotel Group)
15 Gold Street
New York, NY 10038
212-232-7700
We have arranged a special rate of $299.00 + tax, with an upgrade to a Deluxe King room. The rate is good through the weekend of the conference.
To register online at this rate, click here.
OR …
Visit www.thompsonhotels.com
Choose hotel – Gild Hall
Enter dates and promo code IFOCOS
OR …
Reserve by phone and mention the promo code iFOCOS. Call (212) 232-7830
---
Here are some other options that are convenient to our venue and cover a range of price options.
W Hotel
New York, Downtown
28 Washington Street
New York, NY 10004
646-826-8600
Double Tree
8 Stone Street
New York, NY 10004
212-480-9100
Wall Street Inn
9 South William Street
New York NY 10004
212-747-1500
New York Marriott Downtown
85 West Street
New York, New York 10006
212-385-4900
Hilton Millenium
55 Church Street
New York, New York 10007
212-312-2041
Hampton Inn Manhattan-Seaport-Financial District
320 Pearl Street
New York, New York 10011
212-974-9700
Best Western Seaport Inn Downtown
33 Peck Slip
New York, NY 10038
212-766-6600