Join us for an exclusive guided tour with local expert and iFOCOS friend, Corinna Moebius
WHEN: Wednesday, February 25, 7:30 – 10:30 pm (we leave The Sonesta Hotel @ 7:30pm or meet us at Domino Plaza in Little Havana, return when you're ready via taxi)
PRICE: $85 (includes delicious Cuban dinner and non-alcoholic beverage)
Register Here
Explore Cuban culture in Miami's Little Havana neighborhood. We'll start in mosaic-decorated Domino Plaza next to Domino Park (the favorite of domino players), see the historic, Art Deco Tower Theater, and visit an art gallery with paintings of Orishas from the Afro-Cuban religion of Santeria. We will be visiting the oldest cuban cigar factory in Little Havana, owned by the legendary tobacco blender and Crystal Leaf award winner, Pedro Bello, Jr. carries on his family traditions in Little Havana, where Cuban master cigar rollers with decades of experience craft premium blends of the world's finest tobacco leaf from Cuban seed. This is the home of Bello: The Legend and Maximo brands, both very popular. On the tour, you can meet and talk to the Bello father and son, and see the master cigar rollers at work. Watch a video about the shop made from the New York Times.
We'll enjoy a traditional Cuban meal at a favorite local restaurant, accompanied by live Cuban music. Then we'll take our Cuban cafecitos to go, and walk across the street to a historic theater turned dance studio. We'll experience a demonstration of Afro-Cuban Orisha dance, rumba and mambo by Marisol Blanco, an outstanding dancer and former member of Havana's first all-female drum and dance troupe.
Ready to Rumba Dance Workshop (9:30 – 10:30): Add some "sabor" (flavor) to your moves on the dance floor! Take a class with Marisol and learn Cuban salsa steps (or just watch from the sidelines) as well as moves you you can apply in any dance club. Ideal for both men and women; no special clothing required. Shoes are not necessary for the class: students are barefoot. Ladies are encouraged to bring a long, flowing skirt, but it's not required.
Marisol Blanco, "Marisol Blanco is one of the most talented performers and teachers of Afro-Cuban dancers in the United States. She was trained at Cuba's prestigious Institutio Superior de Arte (ISA), and for 6 year's performed in Cuba's famous all-female drumming and dance group, Obiní Batá. Marisol relocated to Miami in fall of 2008, and currently performs and teaches Afro-Cuban folkloric dance, salsa and ballet. Watch Marisol.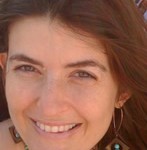 About our tour guide: Corinna J. Moebius, M.A.
A Connector and Social Entrepreneur, Corinna Moebius is dedicating to helping communities, organizations and businesses become more inclusive, creative and sustainable. She is a resident of Little Havana and the former director of Little Havana's monthly arts and culture festival, Viernes Culturales. Corinna leads walking and bus tours of local ethnic business districts (particularly Little Havana) in conjunction with major conferences.