---
Submit, Comment & Vote / PitchIt Home
---
We've extended the submissions deadline to: 9 pm ET Thursday, March 15, 2012. Comments and voting will remain open longer.
Call for entries
A platform for founders, dreamers and social entrepreneurs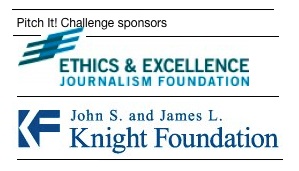 It's been hailed as one of the top ten investment challenges in the world. PitchIt! helps launch media and technology projects that make the world better. Founders and would-be entrepreneurs pitch their big ideas to a panel of business-launching experts. We award $25,000 to the two best ideas.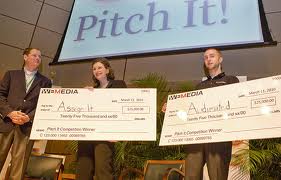 Just enter the competition and be ready to run. If you're a finalist, you'll present your idea live before judges and the audience at the We Media PitchIt! conference on Wednesday, April 18 at Gannett / USAToday headquarters in McLean, Va. You'll also benefit from feedback and advice from a world-class network of world-changing We Media Mentors.
We Media PitchIt! begins with a simple goal: We want to make powerful ideas real. We're open to commercial and non-profit ideas. Winners earn seed investment to help build and launch something. Everyone who attends benefits from feedback, attention and advice from funders, investors, corporations, fellow entrepreneurs, attendees, media and a global network of digital media visionaries. Projects that don't win the competition frequently are funded by those in attendance.
We've created a platform for seed-stage companies to take center stage. Our criteria encourage bold ideas with a potential for commercial and social impact. Since 2009 we've used this platform to help launch some amazing companies.
How the challenge works
Enter, pitch, participate. Cash a check if you win.
1. Enter the We Media PitchIt! Challenge. If you're a finalist you'll pitch your idea live before a panel of expert judges – and a live audience of leaders, innovators and investors of the connected society. The judges select the two best ideas. We'll invest $25,000 in each to help the founders turn their ideas into reality.
2. Comment and vote. You don't have to enter the challenge to make a difference. You can offer constructive feedback to help bring ideas to life – and you can vote to select the Community Choice Winners.
3. Be there. If you'd like to meet the finalists and see them pitch, register to attend the 2012 We Media PitchIt! Conference. Join our mailing list for updates.
Some Rules
If you submit an idea to the challenge, you'll be asked to confirm you have read and agree to the following:
The We Media PitchIt Challenge is a seed-stage investment competition that offers a $25,000 sponsorship and expert advice to help each of two winners turn their bold ideas into something real.
The PitchIt challenge serves as a laboratory, classroom, showcase, incubator and forum for ideas shaping our connected society through innovative uses of media, communication and technology.
The emphasis is on innovation – with a set of criteria we use to define and spot it. Beyond providing seed capital to help launch two new ventures, PitchIt helps entrepreneurs, mentors and funders find each other. PitchIt offers inspiration, expertise and cash – and it convenes and channels the attention, energy, insight and good will of a diverse network of digital media, tech and social entrepreneurs.
Here's how it works:
You come up with a compelling idea. We want to hear your dreams for new businesses, services, experiences, products and business models for media and technology – coupled with a potential for social impact and social benefit.
Entries must be submitted with our online application.
Following the collection of public comments and votes, We Media will select a group of 6-8 finalists to pitch their ideas live before a panel of expert judges at the We Media 2012 conference on April 18 in McLean, Virginia. Two winners selected by a panel of judges will be awarded $25,000 each to help them turn their ideas into something real.
We aim to review all entries and notify finalists by March 15, 2012. The final selections are determined by We Media founders Andrew Nachison and Dale Peskin.
Finalists are responsible for any expenses and arrangements necessary to travel to McLean, Virginia (just outside Washington, DC), to participate in the live finals during the We Media Conference on April 18. Specific  instructions on travel and preparations for the final pitches will be provided to the finalists.
Only the finalists will present their ideas to the judges and the audience at We Media. Non-finalists are invited to attend the conference for the networking, conversations and ideas shared there.
We'll help the winners turn their ideas into something real – and help all of the finalists fine-tune their ideas.
Individuals may submit ideas, vote on submissions and add comments, suggestions and tips to help founders improve and pursue their big ideas.
The challenge is open to commercial AND non-profit ideas.
Our goal is to help launch two new ventures – and help the founders go further. We do not have a hard rule for defining "idea stage" or "early stage." In general we look for ideas for "pre-launch" new ventures that have not raised significant outside capital.
This is an open challenge. Submissions are shared online for comments and voting by the public.
The votes and comments are important, especially for founders seeking constructive feedback to help them launch their ventures. HOWEVER, the vote totals do not determine the finalist selections. Finalists are selected by We Media.
The three submissions with the top vote totals will earn bragging rights and be named We Media Community Choice Winners.
There is no guarantee or promise that any finalists or winners will be selected, or that a specific number of finalists or winners will be selected. We Media or the judges may determine, at their sole discretion, that none of the entries satisfy the criteria or goals of the challenge.
We Media will review all submissions and reserves the right to approve or remove any submissions, for any reason, including those that do not fit the challenge objectives.
Anyone who submits an idea to the challenge, or comments and votes, is also subject to We Media's Terms of Service.
Our model
We invest $25,000, in the form of a sponsorship, to help each of the two winners launch, develop a business plan or other elements. We'll give them exposure to a world-class group of business and technology experts, and the entire We Media community, to help them take the next steps. The seed investment, coupled with advice from our network of mentors, will put the winners in a stronger position to take their ideas to the next stage.
The winners are offered $25k in seed funding, provided in the form of a sponsorship and subject to a sponsorship agreement confirmed with each winner. We do not take equity in the winning entries, but we do require the winners agree to certain performance requirements, to "pay it forward" by sharing what they learn with the We Media community, and by helping others who follow in their footsteps.
Online submissions are reviewed and vetted by We Media program staff to identify finalists. The finalists receive instructions and coaching on how to present their ideas. We also compile detailed background dossiers on each finalist for review by outside judges. The finals are conducted live, in public and before a panel of expert judges  (like American Idol). The finalists have 6-8 minutes to pitch their idea and demonstrate how they're going to pull it off. The judges then review their findings in private to select winners.
Finalists do not pay to enter the challenge, to pitch or attend the finals – but they must cover their own travel and hotel expenses.
Key Dates
Submissions: The deadline for submissions and votes is March 13, 2012. We aim to notify finalists by March 20.
Coaching & Meetup: We plan to organize an online coaching session with finalists in late March 2012. We will also conduct a face-to-face mentoring meeting the day before the finals, on April 17 in Reston, Virginia.
Finals: The 2012 finals will be conducted Wednesday, April 18 during the We Media Conference at Gannett / USAToday headquarters  in McLean, Virginia.
Purpose & Criteria
PitchIt is a vehicle to inform, inspire and invest in bold new ideas in media. In the connected culture of digital networks we believe everything and everyone is media – it's WE media, not THE media. We Media is the oxygen that connects, informs and uplifts the planet. PitchIt is our attempt to connect the ideas and opportunities we uncover through our research, programs and community with actions and investments in high-potential seed-stage ventures. It's also our attempt to open up a new pathway to entrepreneurship.
We've developed a distinctive set of investment criteria based on our research and thinking on shifting patterns of media experiences, technology, business and cultural forces. We seek to launch new commercial or non-profit ventures that aim to create new value and new markets, and we look for innovative ideas with a mix of these attributes:
Story: Do they create and apply a unique storytelling experience through journalism, discovery, narrative, exposition, data, visualization, or new methods and metaphors?
Design: Do they creatively engage multiple levels of intelligence and understanding of complex information with clarity, style, and meaning?
Social Impact: Do they impact the social condition, stimulate citizenship, raise awareness, influence or marshal support for public policy?
Pattern Change: Do they pioneer original approaches and paradigms?
Purpose: Do they express a purposeful vision through values reflecting ethics, credibility, responsibility and authenticity?
Community: Do they organize community, virtual or geographic, in a new way?
Business: Do they reveal innovative business practices, entrepreneurial quality or a sustainable model?
We're looking for Davincis
While our information networks shift and traditional media institutions crumble under the weight of changing consumer interests, disruptive technologies and obsolete business models, a new generation of empowered, entrepreneurial digital creatives exchanges information, insight and knowledge on an unprecedented scale through global communication networks.
We consume, share, create, comment, search, report, investigate, tweet, read, view, check in, bump – and in communities everywhere we also crackle with ideas for new businesses and services that could fill voids in the digital economy.
We call these entrepreneurial visionaries Davinicis. Some imagine commercial enterprises; others dream of non-profit social ventures.
But turning an idea into a real, functioning venture, let alone The Next Big Thing, is easier to imagine than to pull off.
The We Media PitchIt! Challenge helps digital dreamers bring their ideas to life. They need to demonstrate talent, drive, sharp communication skills and a variety of capabilities. Above all, they need to present a compelling idea and plan to do something wonderful and innovative with media and technology. PitchIt is a competition to identify the most promising ideas for innovative new communication products and services – and to offer seed capital and expert advice to help winners, finalists and would-be Davincis launch and succeed.
How PitchIt is Different
We differ from traditional startup challenges, angel, VC and philanthropic funding models in some important ways:
Ideas, not startups. We're interested in helping pre-launch, pre-funding would-be entrepreneurs start something. We aren't seeking full-fledged companies – we're judging ideas, concepts, works-in-progress, stories and teams we think we can help. We seek brilliant ideas. Startup competitions, angel and early-stage venture capital investors increasingly focus on fully functioning companies with live products, services, and even customers, revenue and growth stories.
Commercial or social – doesn't matter. We downplay the distinction between commercial and non-profit business models – and PitchIt is open to both. We care, and it's important – but we've seen, repeatedly, that many promising early-stage digital ventures may not know what they should be when they "become real." If necessary, we'll help them figure that out. We use judges with expertise in commercial and social entrepreneurship and we help our companies define the structures that best fit their goals, circumstances and temperament. We're interested in bold ideas – and these may come from social as well as commercial entrepreneurs. Indeed, our entry and judging criteria seek a trajectory of social impact regardless of the business model.
Speed and simplicity. We avoid overly complicated application and administrative processes with our companies. We vet carefully, and with clear criteria. But the return on our investment is insight shared widely to inspire and inform other would-be entrepreneurs. We want and expect our portfolio companies to move quickly.
Return. We do not take an equity stake in return for our investment. We may review and revise this approach at some point. Thus far, the only return we have expected is insight, impact and a "pay it forward" approach with others who follow in the footsteps of our winners and finalists. We expect an open, collaborativeprocess so that others may learn and benefit from the experiences of our companies.
Organizers and Sponsors
The challenge is organized by We Media, a digital media studio, agency and insight network, for iFOCOS, the Institute for the Connected Society. iFOCOS is a not-for-profit center for research, education and action to improve the human experience in the digital world.
The challenge is sponsored by the Ethics & Excellence in Journalism Foundation and the John S. and James L. Knight Foundation.
FAQ
Q: How is Pitch It different from other startup or angel investor competitions?
First of all, PitchIt isn't for startups. It's for ideas from would-be entrepreneurs who could be the founders of great startups. Unlike purely commercial investors, we're open to commercial and not-for-profit ideas. Our payoff is boosting the prospects of people with brilliant ideas, regardless of the business model and structure. We think the world can be made better through through creative uses of the internet, mobile networks, digital media and communication technologies – and that's what we're looking for in We Media PitchIt!. The We Media PitchIt! Challenge offers seed capital, international visibility, expert feedback and access to investors and other social entrepreneurs who want to launch new media and technology ventures. We're focused on commercial and social entrepreneurs at their earliest stage – when they have a great idea and are looking to get going. Venture capital firms, startup competitions and other groups that provide financial support to startups typically look for companies further along in their development. Our goal with PitchIt! is to help innovative media and technology ideas become a reality, and to provide commercial and social entrepreneurs with the support they need, particularly at the earliest of stages.
Q: What type of businesses are you looking at?
The competition is open to commercial and not-for-profit entrepreneurs and organizations with dreams of new services, experiences, products and business models for media and technology – coupled with a potential for social impact and social benefit.
Q: How do I apply?
The application form for Pitch will be available online.
Q: What do I need to apply?
You need to complete the application, and have your core team identified. If you have a presentation, background documents or screen shots that help to explain your idea, that is helpful, but not required. We're not looking for full-fledged business plans at this stage, but rather a clear articulation of your core idea and some evidence that you have thought about how to make it happen. We expect most of our successful applicants will be two- or three-person teams, but we're open to individuals as well as larger teams.
Q: Do I need to have prior start-up experience?
No, we are looking for passionate people with great ideas. We do want you to demonstrate some thought as to how your idea can become a reality – but you don't have to have everything planned out to win, or get our attention. That said, we do consider evidence of your team's ability to succeed.

Q: Are there any restrictions on who can apply?
You have to be at least 18 years old and commit to getting yourself to the We Media conference April 18 in McLean, Virginia (just outside Washington, DC). We waive the conference registration fee for one member of your project team. If additional members of your team wish to attend they will need to register for the conference.
Q: When does PitchIt! start, and how long does it run for?
The application deadline is March 13, 2012. We aim to announce the finalists by March 15. All applicants are invited to register and bring their ideas to the We Media conference, although only the finalists will get an opportunity to present.
Q: Do I need to be in McLean, Virginia, for the We Media conference?
If your idea is selected as a finalist, then yes, you will need to be there in person to pitch your idea on April 18. If you are a finalist, you will be invited to present to a team of expert judges as well as the audience at We Media. All other applicants and conference participants will have an opportunity to network with the We Media attendees, and take advantage of the expert resources on hand for mentoring and planning discussions.
Q: How much do you invest in each company, and what are the terms?

Two projects will be offered a contract to pursue their ideas. We won't be handing out prize checks – on the basis of our judge's recommendation we'll sponsor the winning teams to work on their projects. iFOCOS will invest up to $25,000, in the form of a sponsorship, for project expenses and a spending plan reviewed and approved by We Media. We'll also expect something in return. The winning teams will be required to share knowledge, produce regular blog posts on their progress, challenges and learnings and participate in other activities with iFOCOS to help the global We Media Community learn from their experiences.
Q: What's expected of me?
This is your idea, your dream and your company. We expect you to be creative and committed to seeing your idea become a reality. And we hope you'll take full advantage of the resources and opportunities we provide, particularly the We Media Community.
Q: What can I expect from PitchIt!?
We want you to succeed – and we will do what we can to help make that happen.
Beyond helping you the with some initial seed funding, we will help you refine your vision, give you feedback on your idea, and help you as you develop the business plan and other elements necessary to make your venture a reality. You'll hit roadblocks; we'll aim to help you through them quickly. We've assembled a world-class group of advisors who've been where you are and succeeded.
Q: Can I protect my idea or keep it private? If someone posts an amazing idea to the competition, what's to stop some bigwig from just stealing it and running with it?
There's no protection, it's a risk. This is an open innovation challenge. That means you have to share some information about the idea in public. You mightWe hope you'll get some helpful feedback on it. You might ask friends and people who love your idea to vote on it and help you strengthen it. Or, you might not. But once you submit your entry it will be "out there" and open for public review and discussion.
For our internal reviews to select finalists, more detail is helpful. It's up to you to figure out how much you include in the public submission.
IMPORTANT: PitchIt! doesn't end at the We Media conference – it begins there. Whether you are a winner or not, you'll have access to the entire We Media Community. We'll continue to help as you move forward. There's a lot that has to come together to turn a great idea into a great company – resources, talent, marketing, sales, partnerships, etc. We'll be there to help as you take those important next steps. Remember, we succeed only if you succeed.
[box type="shadow" align="right"]
[/box]